Emmitt Smith, the dog, started his career on the injured reserve.
"He actually was heartworm positive, had a couple of dewclaws he had to get removed and some fly bites on his ears," Haley Edman, of  Dallas Pets Alive, said.
These injuries meant Emmitt, unlike his namesake, was no first-round draft pick.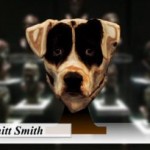 "He was at Dallas Animal Services and they loved him so much that they put him on the adoption floor — but he kept getting overlooked," Edman said.
After some intense rehab, Emmitt Smith is back in the game. But he's not exactly looking to start breaking tackles any time soon.
"He's not as active as some big dogs would be," Edman said. "He wants to be in a home with somebody who is going to cuddle with him and not mind a 50-pound lap dog."
It's safe to say he has a lot more in common with the Emmitt Smith of today than Emmitt Smith circa 1995.
"He is more in his retirement phase, energy-wise, though he's just four years old," says Edman.
Emmitt is a great teammate too. After all, he's used to living around lots of other top dogs at Underdog Kennels.
"He is super dog-friendly, leash-trained and house-trained," Edman said. "Basically he's a plug-and-play dog who would be perfect in anyone's family."
Now it's up to you to get Emmitt Smith inducted into the "Furr-ever Home" Hall of Fame.
*Read more about Emmitt on his DPA page, HERE or on his very own BLOG STORY HERE.  
Ruff Life film shoots are hosted by Underdog Kennels, which donates 20% of its kennel space to Dallas Pets Alive!
Many thanks to Newsfix CW33 and their Emmy Award-winning "Ruff Life" series on Dallas Pets Alive dogs!