Our organization could not exist without volunteers. As a private, nonprofit organization, we rely on the assistance of caring and hard-working volunteers in all of our programs. Volunteers who work directly with the animals can increase an animal's chances of adoption by providing additional human contact. Volunteers also help us inform the community of the aims and objectives of Dallas Pets Alive! (DPA!) and promote responsible pet ownership.
The future of DPA! lies largely with its volunteers. We are all working for the animals.
Volunteering with Dallas Pets Alive! can be simple and easy.
Volunteers are required to: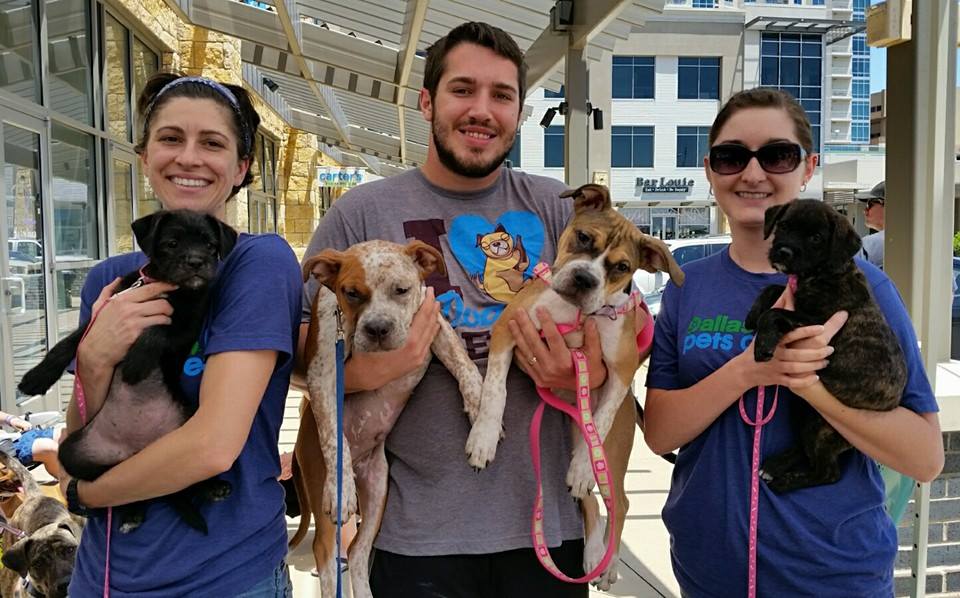 submit an online application
be supervised at all times by a parent or guardian if under the age of 16
attend additional training sessions as required by DPA!
possess a valid Texas driver's license and personal vehicle if you wish to transport animals
treat animals in our care with kindness and concern for their welfare
represent themselves and DPA! in a professional manner and treat clients with respect
Please follow the below link to fill out your Volunteer Application. Thank you again for your interest!
Frequently Asked Questions about Volunteering
What can I do as a Dallas Pets Alive! volunteer?
We have many roles that are virtual, and can be done from home and around your schedule!  We also have several opportunities that are in-person and allow you to interact more with the animals in our program and with the general public.
Below is an alphabetical listing of our opportunities.
Adoptions Team
Help our animals get adopted by monitoring the email box for requests for information, adoption applications, follow ups, and other correspondence with prospective adopters, as well as help coordinate adoption meetings. These are virtual roles.
Alumni Team
Ensure the health, safety, and overall well-being of our adopted dogs and cats by maintaining relationships with adoptive families of DPA! pets and helping to provide guidance and assistance on any challenges faced by the new family.   These are virtual roles.
Events
Promote DPA's mission by volunteering at our adoption and fundraising events held throughout the DFW area.  Assist with handling dogs as well as talking with potential adopters and others at the event about our adoptable pets and DPA!'s mission. Most adoption events are held on weekends and last from 3-6 hours.
Foster
Provide temporary care for cats or dogs in your home until they can be adopted. Fostering is what allows us to pull animals from the shelter.  The more fosters we have, the more animals we can save!  You must be the owner/renter of home and fill out a Foster Care Application. See our Foster page for more information.
Foster Support
Foster & Medical Team roles.  Help support foster families with behavioral or medical needs and maintain records as a Foster Representative, keep our pets up to date on our website as a Foster Administrator, screen new foster homes as a Foster Application Vetter, write creative biographies for our pets as a Foster Bio Writer, or assist in reviewing and maintaining medical records for our foster pets as a Medical Coordinator! These are virtual roles.
Fundraising team
Help us grow and save more animals by helping plan and execute fundraising events as well as contributing ideas for fundraising.
Marketing/PR/Graphic Design
Help educate the public about DPA and our mission. Seek out public speaking opportunities, presentations at local fairs, farmers' markets and other events; distribute promotional materials at events and local businesses; help create collateral items like brochures, ads, posters and fliers.  Help manage our social media presence.  These are primarily virtual roles.
PASS – Positive Alternative to Shelter Surrender
Help keep animals from entering the shelter system by providing support and alternatives to families who are considering taking their pet to the shelter.  Roles are both in person at DAS and virtual.
Photography
Help us market our animals and DPA! better by taking digital photos of foster animals and events for marketing materials. Experience and DSLR camera strongly preferred.
Rescue Coordinator
Work to evaluate animals at Dallas Animal Services (DAS) to bring into our program based upon available space; meet foster pickups at DAS or provide for transport to foster home.  This requires working at DAS at least once a month.
Transport
Help get our animals where they need to be by transporting them from Dallas Animal Services, boarding facilities, or foster homes to adoption sites, vet visits and similar, and back, using your own vehicle.
Trap, Neuter, Release Cat Program
Help us to reduce feral cat overpopulation by managing the community cats of Dallas. Our comprehensive approach to feral colonies provides neuter/spay, vaccinations and long term care to community cats. We also work to pull kittens into the DPA adoption program that are too young to live out doors.   Roles are both in person/hands-on and virtual.
Volunteer Coordination
Help us increase our volunteer numbers and engagement by recruiting volunteers, helping them to find a role within the organization, participating in volunteer orientations, and answering questions about volunteering.  These are primarily virtual roles.
Website/Other Tech Support
Design, program and update our website, support our databases, and provide media/tech support.  These are primarily virtual roles.
How do I become an DPA! volunteer?
To become a volunteer, simply fill out our online Volunteer Application using the 'Go to Application' button above.  Someone from our team will contact you to get you set up.  Be sure to check your spam filter to make sure you don't miss our email!
I'm under 18, can I volunteer?
Volunteers under 18 are welcome to volunteer when accompanied by a parent or guardian. The parent or guardian must also register to volunteer by filling out the online application and attending an orientation session. We consider supervising adults to be volunteers as well.
Dog volunteering: Volunteers must be at least 16 years (and have a parent or guardian present) in order to handle a dog and control the leash.
I need to fulfill community service hours, what should I do?
If you are seeking community service hours for school, an organization, or personal pleasure, please follow the steps above for How do I become an DPA! volunteer?. You will be in charge of any documentation, including tracking your volunteer hours on your own time sheet. You may request than an DPA! supervisor initial your time sheet each time you volunteer. If you require other documentation of your volunteer hours including DPA! letterhead, please contact volunteer@dallaspetsalive.org before beginning your service.
If you are seeking court-ordered community service hours, please contact volunteer@dallaspetsalive.org before beginning your service. In your email, list the nature of your charge, number of service hours required, and the deadline by which the hours are due. We are not able to accept felony offenders for community service.
My group would like to set up a service day.
Because DPA doesn't have a physical location, it is often difficult to find one time activities for a large group.   If your group is small – 5 people or less – we could use your help at adoption events that are held each weekend around the DFW area.
We would love it if you would consider hosting a fundraising event on our behalf. We use the funds to provide medical care, micro-chipping, heart worm tests and preventative, etc. to the animals in our care.
If either of these options work for you, send an email to  volunteer@dallaspetsalive.org and we will get back with you shortly!
Donate
Help us care for our adoptable pets by providing funds for their care. Below are suggested donation amounts corresponding to specific needs.
$10 – Microchip
$25 – Heartworm test
$50 – Puppy vaccinations
$75 – Spay/neuter one pet
$100 – One day of parvovirus treatment
$300 – Heartworm treatment
$500 – One month of behavioral training
Newsletter
Join our newsletter to receive updates in your inbox.
---
Dallas Pets Alive! is an exempt organization as described in Section 501(c)(3) of the Internal Revenue Code, EIN 46-2768869