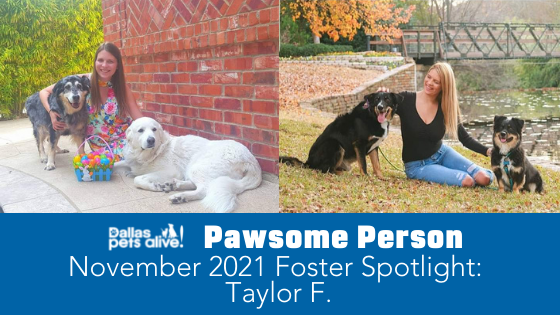 "Taylor is an amazing foster. Not only does she save lives, but she takes in the cats and dogs that literally no one else wants. She does not shy away from ringworm, behavior issues or long term shelter stays. She recently took in two very shy cats from Mesquite Animal Shelter who had been there for over 100 days. 
She is an awesome advocate for her fosters and treats them like her own babies. Taylor's positivity even when things get dark is what makes her an outstanding foster and volunteer. She is so wonderful to work with and we sure are lucky to have her. Thank you Taylor for the countless lives you've saved and time you have given to DPA." -Jenay B., DPA's Foster Director 
Taylor really exemplifies the best of the fosters who support us here at DPA. Read more about her experience here.