The past few months have been a fun adventure for Ernest, formerly known as Grumpy. Ernest was rescued by Dallas Pets Alive! (DPA), in December, after testing positive for Sarcoptic Mange, Ernest quickly became an internet sensation leading him to become a fan favorite due to his "grumpy" look— despite his "grumpy" look, Ernest is really just the sweetest cat all around.
Ernest's journey to finding a family was a long one; spending over five months in foster care waiting for his perfect match. Thanks to the innovative matchmaking tool at the DPA adoption container and his Youtube short debut, Ernest caught the eye of Brooke, who ultimately decided to adopt him.
Ernest's friendly and loving personality won over the hearts of the cat-loving community, earning him over 50K views on Youtube. His foster mom notes that he gives a lot of kisses for a kitten and loves playing with anything on a wand.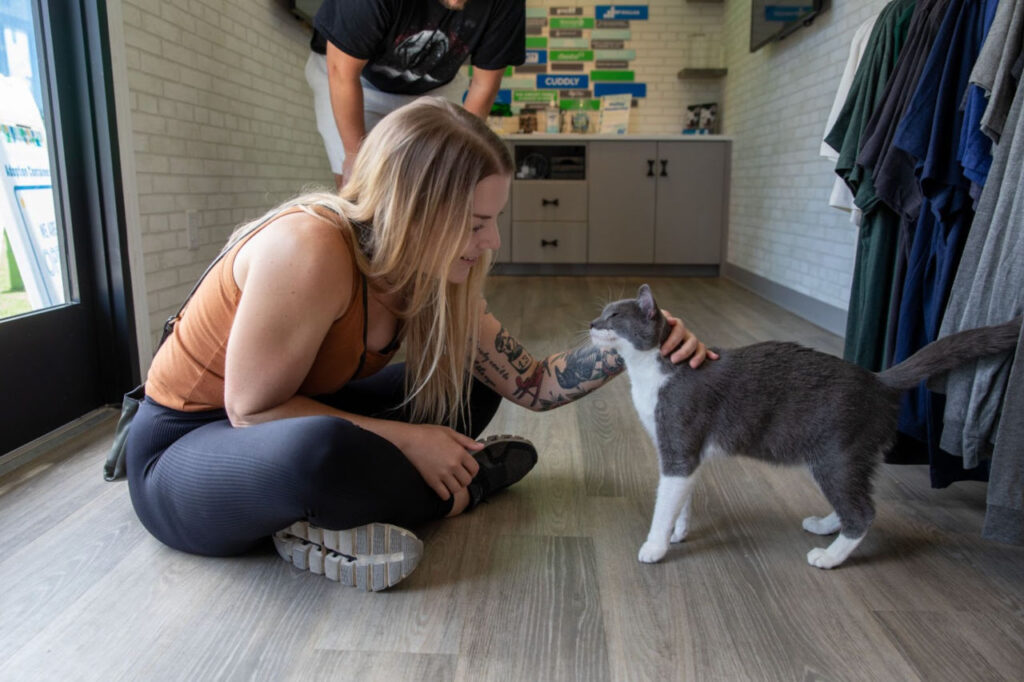 Thanks to the efforts of Texadia, an innovative, lifesaving partner, Ernest found his home through the DPA Adoption Container. Ernest's adoption marks a significant milestone for DPA, as he is the FIRST cat to be adopted through the DPA Adoption Container. In addition, Ernest is one of the eight pets triumphantly adopted through the container thus far.
The DPA Adoption Container powered by CUDDLY is located at Community Beer Company (CBC). This adoption container puts rescue pets and our mission in front of thousands of patrons, normalizing the idea of fostering and adopting a rescue pet at their favorite brewery. DPA and CBC have been partners in pet lifesaving for almost over ten years. Transformed from a 40-foot shipping container, the Adoption Container is an innovative space where collaboration, technology, and rescue intersect – a place transformed, just as our companion animals have been. Our fosters are the heart of our organization, and our animals are 100% foster based. Foster families have the opportunity to bring pets they are caring for on-site for events and allow potential adopters to interact with the animals, ask questions, and observe the animals in a social setting. Through this model, DPA anticipates that pet adoptions will increase by a whopping 20% over the next year.
Ernest's success story is a testament to the wonderful work done by Dallas Pets Alive! and the importance of fostering and adoption. With his sweet personality and loveable grumpy face, Ernest will surely bring joy to Brooke and her family for years to come.For more information on Dallas Pets Alive! and their efforts to get every pet adopted into a loving home, please visit dallaspetsalive.org