"Debbie has saved many lives by fostering dogs over the last few years with DPA! She is always willing to step up and foster dogs at risk of euthanasia… the dogs who literally have hours left to live, and no matter if the timing is right or wrong, Debbie always says yes and finds a way to make it work. She has fostered a few heartworm positive dogs too, which is a bit of a longer commitment because treatment lasts at least a few months. Debbie has such a big heart for bully breeds, which have a harder time getting adopted due to misconceptions and unfair reputations. She has worked with dogs with various behavioral and medical needs, and has always committed to fostering a dog until it is adopted, no matter how long it takes. In fact, she is currently fostering our Dog of the Month, Zephyr, who has been searching for her forever home for a full year, and Suzy, who has been on the hunt for a family for 7 months! These two dogs are fabulous, dog friendly, happy girls, but for some reason they just haven't found their perfect match. Debbie has never complained about the length of time a dog spends at her home, but continues to love them and care for them no matter what! She is in it for the long haul, and we so appreciate her commitment to helping our pups who need it most!" says Allison Brandon, Foster and Medical Director for Dallas Pets Alive!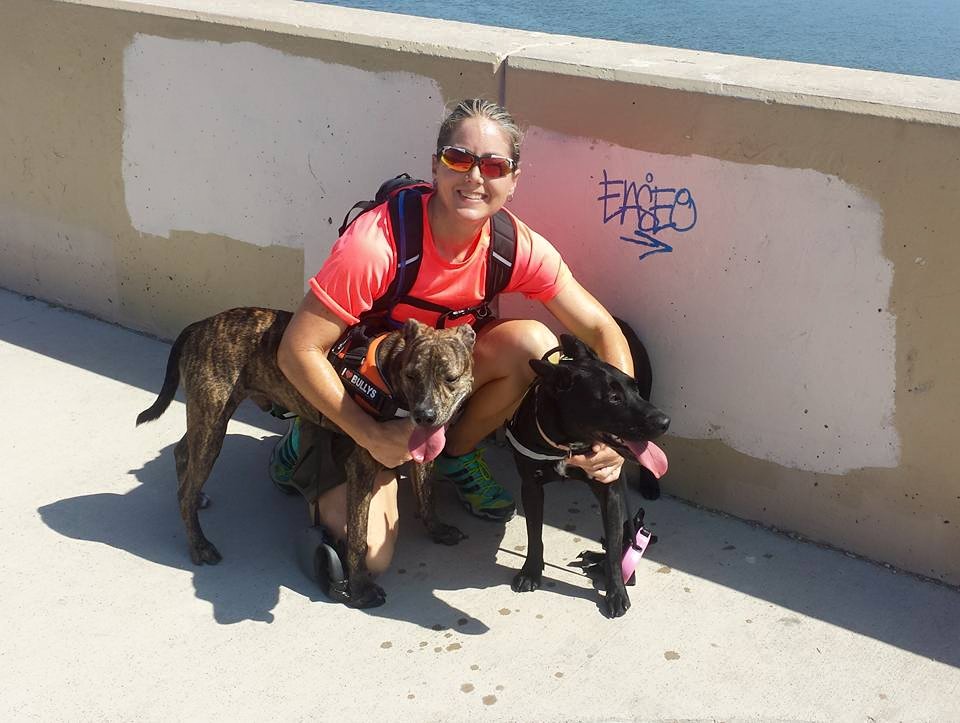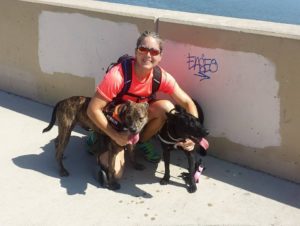 This is why Debbie Binion is one of Dallas Pet's Alive's PAWesome People!
How did you get involved with Fostering with DPA?
I started with DPA 2 years ago by joining their closed group on Facebook & seeing an Urgent 5-month-old brindle puppy that was scheduled to be euthanized the following day. I had recently lost my own dog, Harley, after having him 19 years. I thought I could honor his life by saving another. I decided to become a foster & save the puppy's life in honor of Harley. I ended up "foster failing" & adopted my first foster! His name is Gunner.
Tell us about a few of your fosters.
Besides Gunner, I tend to have 2 or more at once. They keep each other company. 🙂 Also, I tend to take the ones who are listed as Urgent. For my 2nd foster I learned to have a different mindset so I wouldn't adopt her too! Her name was Daisy, renamed Nala. She was 5 years old & had been someone's pet. She was shutting down in the shelter. When I picked her up she was trembling. Luckily in about 2 months she was adopted by a young professional female who wanted her 1st dog, & wanted a dog who was past the puppy stage & already trained. Perfect match! I still dog sit for her, & meet them at the dog park.
At the same time I had Daisy, I had Logan who was a 1 year old boxer pug mix. He was heartworm positive & had been from a home, but no one claimed him at the shelter after he had been picked up. Four months later after DPA paid for his heartworm treatment, he was adopted by a young active family of 4 as their first family dog. They still send me updated pictures of him. 🙂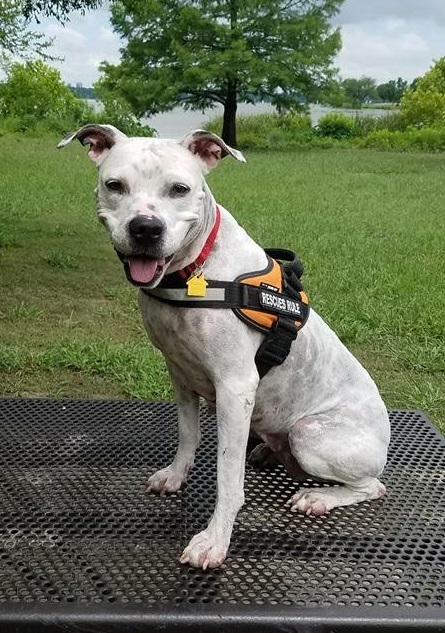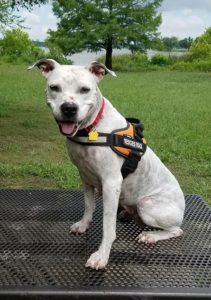 Zephyr is a current foster of mine. I've had her the longest. It's been one year this week! It is not any fault of her own. She is a great dog. She will make someone very happy to have her, but it may break my heart a little. She has been a joy to foster. She is a 2 years old pit mix. When she was picked up from the shelter, she had been starving & had recently had a litter of puppies. She looked very broken & sad. She seemed to have been used as a breeder, & hadn't received a lot of love from humans. After about a month, she began trusting me & opened her heart. Now she loves every human she meets. At the dog parks she runs around like a social butterfly. She loves hugs from everyone, & has the prettiest pittie smile!
What is your favorite animal adoption story?
Durango was a foster who came from a hoarding situation. There were approximately 60 dogs seized. The day I picked up Durango, he was scared & was growling from inside his crate. I learned then he was not socialized at all. He didn't know what petting was, much less what a treat, toy, or walking on a leash was. To gain his trust, I would run around the backyard & pretend to fall down. Durango instinctively would run over to me as if to try to help.
Eventually he gained my trust & learned to walk on the leash in about one week! He got along with my two dogs so well, I took him on a road trip with us to Breckenridge, CO. He hiked in the mountains, by the streams, & visited the dog park in town. He learned so much from that experience. He was adopted by a young couple who had already adopted a dog from another rescue group. Durango hit it off with all of them. They still send me updated pictures of him.
What do you love most about fostering with Dallas Pets Alive?
My favorite part of fostering is easy. It's witnessing the transition of each dog. I am blessed to watch the change from when the dogs are picked up from the shelter at their lowest point to when they begin to trust people, regain their health, & enjoy life again. To watch their personalities blossom, & start their 2nd chance of life is truly an amazing experience. Any animal lover should foster at least once. It'll change your life, but it's also addicting!
Give us a fun fact about you!
Fun fact about me is I'd love to someday live full time & travel in my motor home. I would not be able to foster as I am now without my house & backyard, but I could volunteer in other ways such as to help transport dogs up north to DPA's sister rescue groups.
Be like Debbie:
Sign up to foster with Dallas Pets Alive!