This is Arya Stark, an athletic, young, female Pit Bull Terrier/Mixed with a mocha brown coat, white chest and soft gold eyes.  She also lays claim to a big heart with lots of love to dole out!  She's named for the warrior girl in Game of Thrones, a name she has earned by surviving some trying times.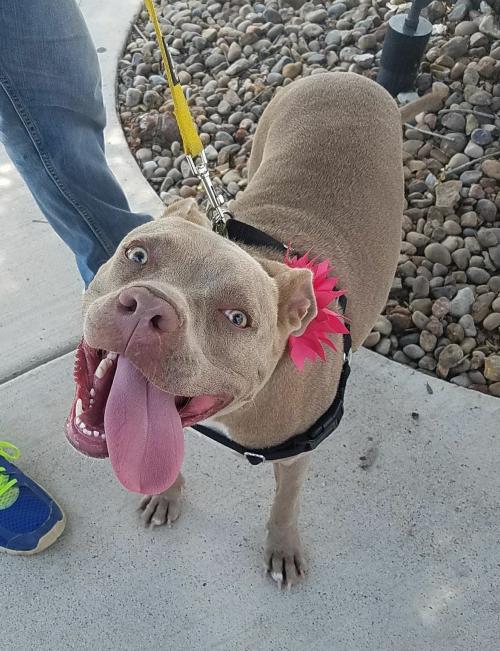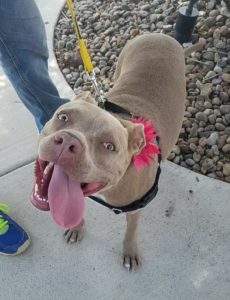 No doubt this pup has a resilient nature. 
This Mother's Day, remember to send Arya a card.  She's had her own litter of eight (delivering them on Easter, no less) and adopted another puppy as her own, acting as a foster mom to him.  She even runs to the aid of her human kids.  Whenever she senses they are sad or in distress, she swiftly comes to their aid.  All she needs now is a keg around her neck!   
Like all good moms, Arya has a clever side.  (Well, let's face it, with nine puppies you learn to cope.)  She gets along well with other dogs in her household, but has learned to bury her bones in the backyard so she can get some well-deserved chewing time all to herself:)  She will also find a way to cuddle up with you on the sofa and take in those movies.  Smart dog.
Arya is house-trained, can use a dog door and enjoys taking rides in the car with her family.
After all the nurturing she has done, we think she's deserved the right forever home with a caring family of her own.  Could this sweet dog be your special companion?  Apply to adopt Arya Stark today! Her adoption fee is 50% off through the end of November.