Every day, sick, injured and homeless pets are rescued by Dallas Pets Alive! They come in all breeds, sizes and colors. But one thing they all have in common is they need a champion in their corner who will fight for them and ensure they will never have to go hungry again, face abuse again, or suffer from their injuries.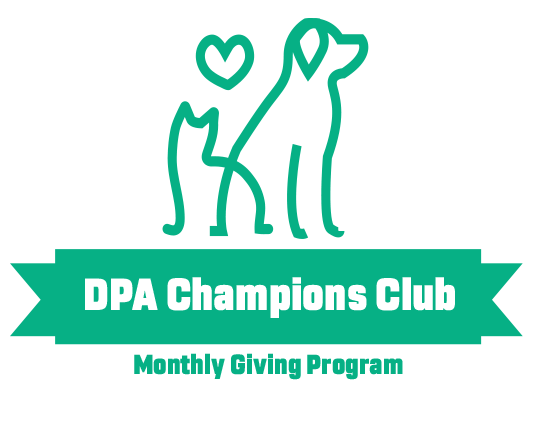 When you join the DPA Champions Club with your tax-deductible monthly gift, you become part of a very special and unique group of people committed to standing up and fighting for the vulnerable dogs and cats of Dallas who come to us as their last hope.
Joining this vital program will show your commitment to the lifesaving mission that defines Dallas Pets Alive! Become part of this elite group today with your monthly donation and we'll send you a special DPA Champions Club paw print car magnet with a monthly gift of $25 or more!
Just $25 a month ($0.83 a day) makes a real difference for at-risk dogs and cats in North Texas.
GIVE MONTHLY
Become a DPA Champion today and deliver lifesaving aid to vulnerable dogs and cats in North Texas
YOUR MONTHLY GIFT'S IMPACT
The monthly support of DPA Champions enables Dallas Pets Alive! to save vulnerable dogs and cats and helps us ensure that no healthy or treatable animals are at risk of euthanasia in Dallas.
Giving monthly helps make it possible for Dallas Pets Alive! to say yes when emergencies arise. It helps provide the immediate and lifesaving treatment sick, injured, and vulnerable dogs and cats need to survive, and the extensive ongoing care they need to begin their new lives with loving families.
Monthly giving is a convenient and easy way to support the lifesaving efforts of Dallas Pets Alive! You can make your donation by credit or debit card through our secure online form. And, you can change the amount, date, or payment method of your monthly gift whenever you like. For questions or more information, please contact Pat Robbins at pat@dallaspetsalive.org or 214-444-9372.