[author] [author_image timthumb='on']http://i1042.photobucket.com/albums/b422/haleydpa/jessica_zpshscamuqb.jpg[/author_image] [author_info]Written By: Jessica Weinstein, Vice President of Animal Operations[/author_info] [/author] Fiona joined the Dallas Pets Alive family just over 2 years ago. All the animals who enter our program become part of a life-saving, compassionate, and loving community, even after adoption. Most of these loved pets find their forever homes, but Fiona was different. She spent the remainder of hers in our care.
Fiona was brought into Dallas Animal Services (DAS) as a stray at the age of 8 years, weighing only 9 lbs. When she arrived, she suffered from hair loss, cherry eye and was heartworm positive. On top of all that, this sweet senior was also so ill she was unable to keep anything down. Despite all these medical issues, Fiona would greet each visitor to her kennel with a one-toothed grin and a tail wag. It was her endearing demeanor and smile that found her way into a foster home with us after a month-long stay at DAS.
Once in foster care, Fiona flourished! Her hair grew back, she underwent cherry eye surgery and she received heartworm treatment, all of which left her feeling and looking so much happier and healthier. She enjoyed her days lounging around in laps, playing with other dogs her size and getting pets from her foster family's children. There she waited, and unfortunately, after a little over a year and a half, she was still looking for a FURever home. To complicate things, her foster could no longer keep her.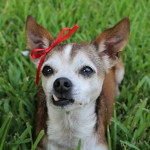 Lucky for Fiona though, a new foster came to her aid just in time! At Marty's house, she enjoyed being the only pet: the queen of the domain. This is where Fiona spent the remaining 5 months of her life. Fiona was loved, spoiled, and stole hearts everywhere she went. Then, the day Fiona was waiting for finally arrived. She received her first adoption application in over two years.
Unfortunately, in her old age, she had developed an inoperable mass around her heart and was having fluid buildup in her chest and stomach. We, at Dallas Pets Alive! along with her potential adopter, felt it was in her best interest to keep her in our program as a hospice foster.
Her foster took her for regular checkups and had the fluid drained around her heart, but it slowly came to be too much for little Fiona. We made the decision with her vet and foster to let Fiona go, to avoid prolonging her suffering. Fiona said her last goodbye yesterday with her loving foster by her side.
When Fiona was officially deemed a hospice case, we truly could not have asked for a better or more caring response from her foster. His simple reply was that he would give her as much love as possible for as long as she needed, whether it was a day, a month or more. His one request was that she still be able to attend adoption events to see her friends when she felt up to it. Despite Fiona not finding a FURever home, she found the most important thing: love.
If you're interested in fostering special animals like Fiona, apply at bit.ly/dpafoster. To help us be there for more pets like Fiona, become a "Holly's Hero" foster and support them in their time of need.