Meet Holly, a senior Golden/Chow mix. Holly is the face of hospice foster pet care.
Holly was surrendered to the city shelter by an owner when she was about 10 years old. When she arrived at Dallas Animal Services, she exhibited symptoms of physical and emotional stress, but when our volunteers got her out in the play yard, we saw a different dog. She ran laps, was carefree around other dogs and even played with her reflection in the windows. Due to her happy-go-lucky nature outside her kennel, DPA was able to find her a foster home, but that's only the beginning of Holly's story.
Once in the foster home, Holly's health began to deteriorate quickly. Her foster noticed that Holly suffered from hearing and vision problems (symptoms of nuclear sclerosis) and hip pain that caused mobility issues. Holly also startled easily, at anything she was not expecting. This is about the time we learned about Holly's past: she had, within the last year, been seen for suspected blunt force trauma to her head, which in addition to physical pain, likely caused either dementia or head trauma. When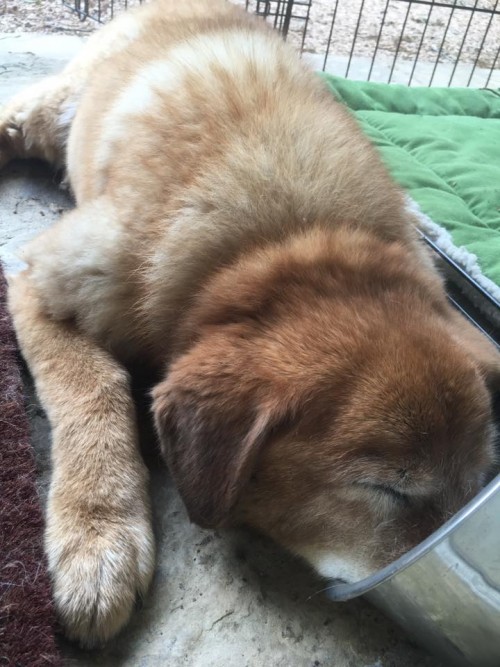 Holly's ailments progressed further, her foster felt that she could no longer properly care for her due to her apartment's many flights of stairs.
Luckily, another foster came forward, and Holly was able to move into a house with a yard and a doggy door! Soon, Holly became DPA's first official hospice foster – a pet that after careful review, has too many health problems to be considered "adoptable." DPA volunteers affectionately referred to her as "Hospice Holly," and everyone loved to follow her foster's updates, especially her random nap spots. Because she was a hospice foster, Holly could remain in a loving foster home and receive the veterinary hospice care that made her as comfortable as possible.
Holly had her good days and her bad days. On her good days she would follow her foster around the yard, seek attention, stand while finishing off her bowl of food and
give a big "Happy Holly Smile." On her bad days, she slept all day, refused both food and water, and had no interest in anyone. Holly spent a great deal of time sleeping, but at her best she enjoyed a nice meal, a gentle hand, and knowing love.
Even though she was not adopted at the end of her story, we are so thankful that a foster opened her home and heart to Holly so she could spend her last months as part of a real family. It is a pet owner's or foster's responsibility to see their animals through both the good days and the bad, but once the bad outweigh the good, to compassionately release them from their pain. When that time comes it is also their responsibility not to put them out in the street or surrender them to a shelter, but to let them be humanely euthanized and be there in those final moments. That time came for Holly recently and we, along with her foster, made the decision to remain unselfish and let rest in peace. This is what it means to be no-kill.
DPA specializes in rescuing healthy and treatable pets, but we will not turn our back on our rescues when they need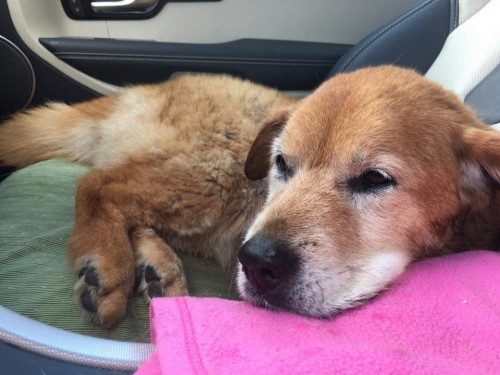 more care than we had originally thought. We strive to show compassion to all animals in our care.In Holly's memory, we would like to encourage others to step up for dogs like Holly, those that are not yet ready to give up their fight, but are not considered adoptable pets. They may have days or they may have months left, but we want to make sure however long they're here, they get to spend it in a home, with a family, knowing love.
If you're interested in fostering special animals like Holly who need a place to stay for as long as they have left, apply at bit.ly/dpafoster. Help us to be there for more pets like Holly, become a "Holly's Hero" foster and be there for them in their time of need.
We'll see you at the Rainbow Bridge Holly, rest in peace sweet girl.
[author] [author_image timthumb='on']http://i1042.photobucket.com/albums/b422/haleydpa/jessica_zpshscamuqb.jpg[/author_image] [author_info]Written By: Jessica Weinstein, Vice President of Animal Operations[/author_info] [/author]