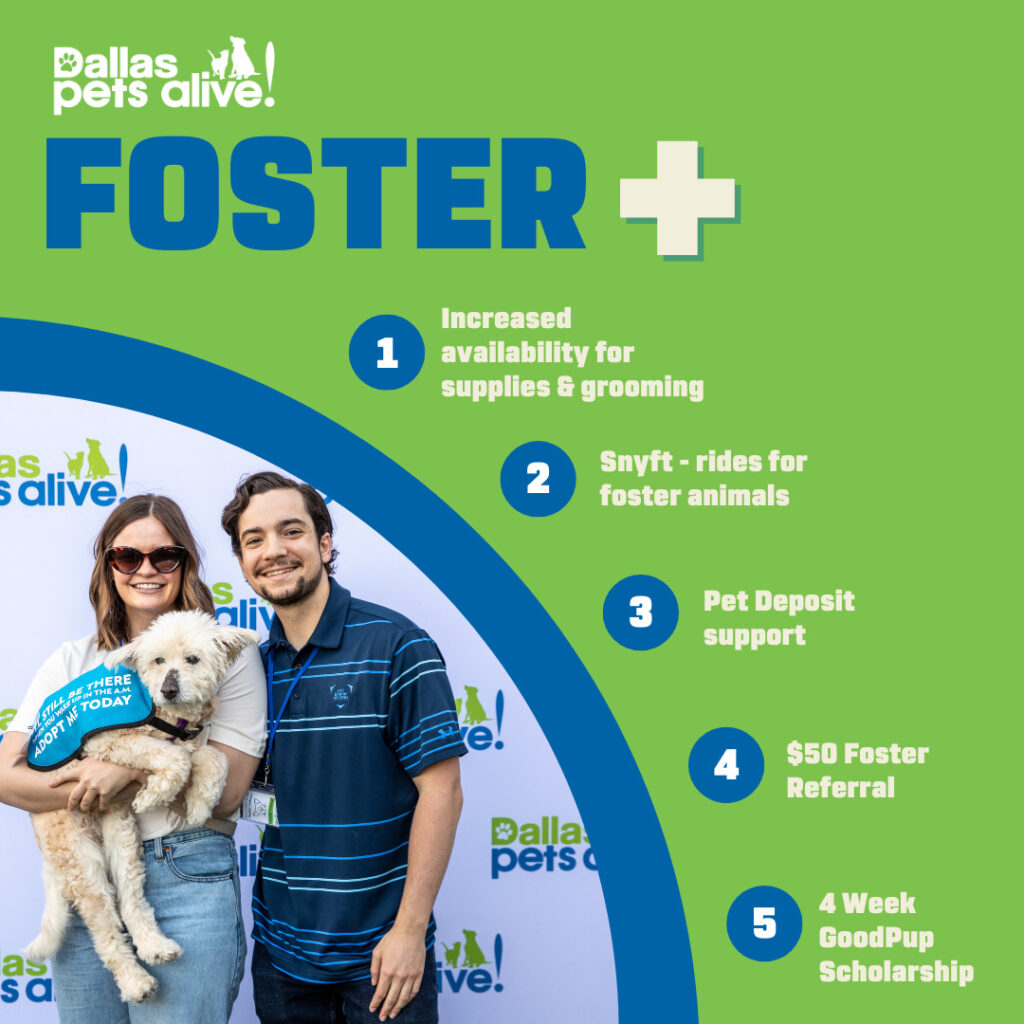 Are you ready to take on fostering pets in a new way? Dallas Pets Alive has received grant funding to allow it to trial a new program called "Foster +". All of our pets are housed by dedicated foster families throughout North Texas. At Dallas Pets Alive, we are finding ways to make fostering more convenient and provide additional rewards to fosters for their efforts. Investing in our fosters helps us save more lives in North Texas.
The program benefits will be available from July 1, 2023, through July 1, 2024.
The Foster + program provides increased supplies availability for grooming and supplies shipped to your door, foster referral bonuses, pet deposit reimbursement, 5 for $500 for canine shelter tags, grooming assistance, CIV vaccines for resident pets, GoodPup Behavior Training Scholarship for every foster dog, and Snyft rides for foster animals.
If you need help transporting an animal from the shelter or to and from the vet, you can request a Snyft Driver. When there is an urgent medical case, pets can be transported to the vet to address issues immediately. Interested in becoming a Snyft Driver? Email snyft@dallaspetsalive.org and you will receive $35 via PayPal per trip that you assist with.
Foster Referral is another way for fosters or volunteers who refer someone to foster for DPA to receive $50 per referral. When the referred new foster has officially tagged and picked up their new foster, the referring volunteer will receive a $50 referral bonus for referring a new DPA Foster via PayPal.
If those who would like to foster have the boundary of a pet deposit, DPA will consider paying the pet deposit on a case-by-case basis. To request and get reimbursement approval. Fosters must commit to fostering for a year, 365 days, to receive the Pet Deposit Reimbursement.
If a foster feels like they need to have their resident pets vaccinated for CIV Reimbursement in order to rescue a dog from the shelter, DPA will consider the reimbursement for the cost of the vaccine on a case-by-case basis. Fosters can use their own vet at their convenience and request a reimbursement.
Finally, shelter partners have seen an increase in capacity for dogs, and difficult decisions are having to be made across all breeds, ages, and sizes. To reward those who want to help with this major need, starting July 1, 2023, through July 1, 2024, if a foster fosters five canines who are tagged from the shelter and fostered until adoption, they can receive $500.
Benefits may be extended based on funding and use of the program.
The Foster+ benefits were made possible by the generosity of the following:
Betty Pope Endowment Fund at The Dallas Foundation
Louis B. and Mary Ratliff Animal Welfare Fund at The Dallas Foundation
Erin Wylie Fund at The Dallas Foundation
And the Emma Barnsley Foundation
Our goal is to reduce barriers to save lives and we are excited to announce new benefits that will foster an experience like never before! Help make the world a better place with one simple action: Fostering A Pet.