This month's pawsome person post is unlike anything we have done before. We are featuring a group of people who went above and beyond to do whatever it takes to save animals. It all started like this…
Around 11am on September 23rd Mesquite Animal Shelter (MAS) sent out a plea to their rescue partners about how they were about to intake anywhere from 70 to 80 dogs. Our assistant rescue director, Jey, went all in and we started hustling. After the go-ahead from our executive director to bypass potential  medical and behavioral issues, we got to work.
Around noon we got word that it was not just 70-80 dogs, but a grand total of 111 dogs that had been surrendered to the shelter due to a hoarding case.
At this time, it was all hands on deck and volunteers in various roles were helping out in ways they probably did not think they would be helping in before…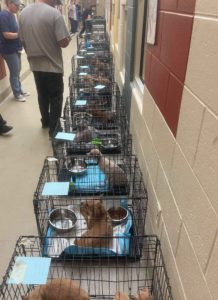 "In my role, most of my work begins when a rescue pet enters the foster home. While I do approve what type of medical cases we can take on as a rescue, I rarely get involved in real-time rescues. Most of us are working full-time jobs on top of volunteering, and some of our team was on vacation. I just happened to be free and at home when we got the email for a call to action from MAS. Knowing our Foster Director was at work, I quickly hopped into action and started texting to make a plan.
Within a few hours, we had the ball rolling and had Jey, our Rescue AD, at the shelter ready to help in real-time. Since I am on the East Coast, I was able to relay information from Jey in the shelter to our foster families and answer questions on our internal Facebook group. Our social team was able to post the public plea for help and the foster team was able to focus on foster applications and foster offers. Our rescue volunteer Mary was posting the foster application link in various groups and to community members interested in fostering one of these pups.  
What really stood out to me was how easily we were all coming together in unusual circumstances to try to help as much as we could. We were asking our foster families to take a chance on a dog that had not been officially evaluated for medical or behavior. Amazingly, one amazing foster was able to go and grab 6 dogs to triage, get into the vet for initial vetting and into waiting foster homes the next day.
I am so proud to call these people my friends and teammates. I came to DPA to help the animals, but I stay for the people. They are my people and I am in constant awe of what we achieve together." -Jessica D., DPA's Medical Director
As Jessica said, she hopped right into action and was wearing a rescue hat that she has not worn before. She did not hesitate to help out in a different capacity than her normal line of volunteering.
Our rescue AD, Jey, was hands-on at MAS and was taking pictures of dogs and sending them to Jessica to share with fosters.
All while this was happening, our social team made a plea for fosters on our social media pages. Melanie G., one of our social media volunteers, created a beautiful post showcasing what we needed from the public. Sara W., DPA's social media director rallied her team to get this posted on our social platforms. Melanie's post went VIRAL and was being shared all across the 50 states.
Almost immediately after Melanie's post was live, our inbox was FLOODED with community members wanting to help. Our foster leadership, Caitlin, Jazmin, and Jenay, started replying to email after email and vetting foster applications. We had over 100-200 people interested in helping, resulting in about 70 new foster applications. Caitlin, our feline assistant foster director, was replying left and right to interest emails about these dogs — not her normal kitty-cat inquiries. Thanks to the social plea we were able to gain new fosters in ways we have never seen before.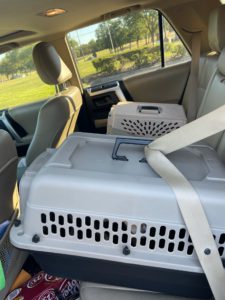 At the shelter, Jey was taking an inventory of dogs, while volunteer and foster, Jenny, did not skip a beat and decided to drive up to MAS and fit as many dogs in her car as she could. Jenny W., took home 6 dogs that night. Let me reiterate — 6 dogs with 0 medical or behavioral background. She took home 6 dogs to triage so they would not have to spend the night at the shelter. Jenny was able to get them into the vet the very next day at one of our valued vet partners, Mazie's Mission. After their vet appointment, and thanks to the efforts of our foster team, all 6 pups have found fosters and are resting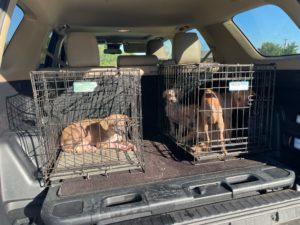 comfortably in a home.
Finally, our volunteer and rescue AD, Jey, said it best…
"We (all the rescue group representatives, Mesquite volunteers and other shelter employees from surrounding cities) were sweaty, full of dirt, fleas, urine, feces, slobber, blood, mucus, and omg probably every skin fungus under the sun. But we ALL came in with love – for the dogs and for each other. ❤️ 
Nobody tried to one-up the other, or argue over this dog or that dog…I have NEVER seen such a beautiful group of people all answering the call for help, and NOT leaving until every last one of those babies was saved. My heart was full. 
It was an experience that brought so many of us together, but we PRAY we never have to meet up under those circumstances again." -Jey L., DPA's Rescue Assistant Director.
And that my friends is why we do what we do.
Be Pawsome like all the volunteers listed above and the many more who helped out in this time.