This is Millie, an attractive black-and-white kitty with a soft heart who has transformed from a scared stray to a great lap cat! The rocky path behind her might surprise you, especially when you see how friendly she has become with people and other cats. She's changed before our eyes, and we couldn't be happier for her! And everyone is the winner because Millie is going to make a wonderful companion for someone in her new forever home.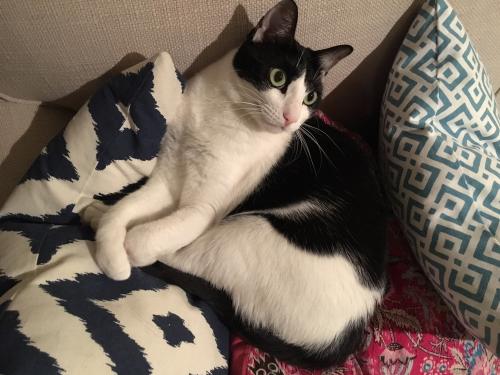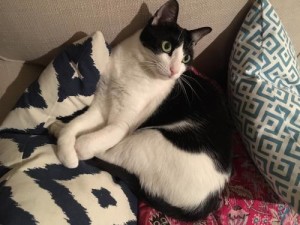 Millie's Beginnings:
When she first went into her foster home, Millie was very timid and preferred to hide. Like most rescued animals, Millie had been through a lot just trying to survive on her own. She was traumatized and didn't know who she could trust. Fortunately for her, Dallas Pets Alive came along and linked her with her foster mom. Millie spent about a month hiding from her patient foster mom, Caroline, and the other cat in the household. She used her black-and-white markings to blend into the lights and shadows of Caroline's home, fearful of all contact with the world past her paws.
Time is a great healer though, and with Caroline's compassion, Millie eventually made some tentative steps out into a more cheerful world, leaving the security of her haven under the bed and sofa, and even forming a friendship with Caroline's other cat! That was about a year ago, and since then, Millie has transformed from a shy feline into an affectionate pet who is a full-fledged member of the household with enough confidence to greet house guests and visitors. She's come a long way! Now we want to help her take that final step to stability by finding her a permanent home of her own.
About Millie:
Millie is a three-year-old female Domestic Shorthair mix with coloring that looks like she could have stuck her tail in an inkwell and found a little black face mask to wear. She has some black patches on her back, but remains mostly white, making her markings stand out in a dramatic way that suits her elegance.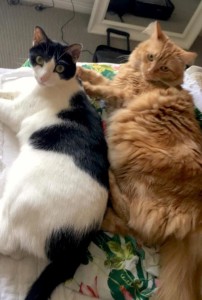 Millie just may be a guardian angel with fur. She loves to follow her foster mom around the house, sleep curled up next to her on the sofa and cuddle with her fellow cat friend. She has been socialized well after a year in her foster home and is ready to find a home of her own. She will need someone who can give her the time she needs to adjust to a new home, and then give her lots of love and attention! Trust us, Millie will meet you more than halfway and give back a lot more than she takes. Just ask Caroline.
Adopt Millie:
Millie is looking to share her loving personality with someone she can call her own. After all, every guardian angel needs someone to watch over! She's been through quite a bit in her short life and needs someone she can count on furrever. Are you looking for an affectionate, furry friend who will delight you with her companionship? Can you share your sofa with a cuddly cat?
Millie is looking for her furrever Valentine, and to celebrate this holiday, her adoption fee is only $14 through the entire month of February! Apply to adopt Millie today!