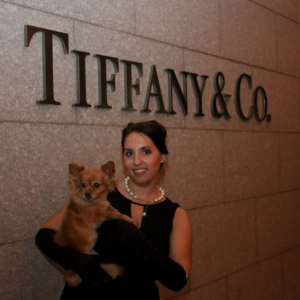 When we first met Tiffany in March 2017 we thought that she was simply an adorable little senior, but we also thought she was a male. Upon further inspection by our volunteers we determined he was a she, and that's when we also discovered her mammary tumor.
Despite Tiffany having a tumor she was front and center and basically lept into our volunteer's arms saying, "OK, let's get outta here!" and we knew then we had to bring her into the DPA program to find her a FURever home to spend her remaining years. Tiffany was accepted into our partner program with Vet Ranch and Abandoned Pet Project to have her spay performed and have her tumor removed at the same time. Unfortunately, when she went in for surgery our Vet Ranch partner, Dr. Karri, determined she had far more work needed. Tiffany had developed cherry eye in both eyes that needed repair, had horrible dental issues which required both a cleaning and extractions, and as we would later confirm through x-rays, Tiffany didn't have just one tumor, she needed a full mammary chain mastectomy. Before we could get to any of that though, during her consult this sweet little senior tested positive for parvo! Our little girl just couldn't catch a break.
Once she beat parvo, proving to all what a warrior she really was, we began knocking out her other medical issues. Back home with her foster mom she made sure everyone, including her foster brother Stanley, recognized her for the diva she was and gave her the treatment she deserved, including making sure he knew mom's lap was rightfully hers during recovery. Her foster mom noticed after coming home she had much more pep in her step, loved belly rubs, and was an all around cuddle bug.
After a little TLC at home her doc referred her out to see an oncologist to begin chemotherapy, but upon prepping for that her oncologist discovered that the cancer had spread and caused tumors all over her little lungs. Tiffany was deemed terminal and officially became a fospice (hospice foster) and her foster mom joined the ranks of our other Holly's Heroes.
While learning that your foster has an unknown amount of time left and is not adoptable is hard for anyone, her foster mama made her a promise to give her the best days, weeks, or months of her life possible, and boy, did she deliver. Tiffany spent a total of eight months in fospice care where her foster created a bucket list for her to live out all her wildest dreams. Tiffany experienced everything from having brunch with mom and her friends, to having her very own photo shoot in Tiffany & Co. to show everyone what a star she already knew she was, to having her first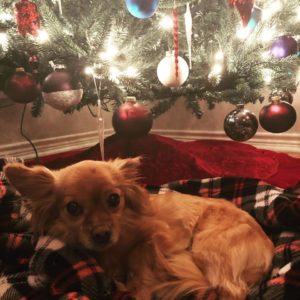 puppuccino, becoming insta-famous, and getting to enjoy her first Thanksgiving with family and see the Christmas tree go up.
Like all good things, Tiffany's time with us recently came to an end. In early December Tiffany went in for a check up because her foster mom sensed she wasn't feeling well. Between the doctor, her foster, and our medical team it was determined it was time to let Tiffany go as her pain was now outweighing her happiness. Letting a pet go is never easy, but it is the humane thing we must determine to give our pets sometimes when they do not have a good quality of life. It's believed that Tiffany's cancer stemmed from her lack of being spayed. While spaying and neutering is key to keep homeless pet populations down, it also plays a huge factor in a pet's future health and can decrease the likelihood of other problems, like cancer.
If you're interested in fostering special animals like Tiffany who need a place to stay for as long as they have left, apply at bit.ly/dpafoster. Help us to be there for more pets like Tiffany, become a "Holly's Hero" foster and be there for them in their time of need.
"Well, when I get it the only thing that does any good is to jump in a cab and go to Tiffany's. Calms me down right away. The quietness and the proud look of it; nothing very bad could happen to you there. If I could find a real-life place that'd make me feel like Tiffany's, then – then I'd buy some furniture and give the cat a name!" – Holly Golightly
Tiffany, we hope you find that Tiffany & Co. across the Rainbow Bridge. Rest in peace, sweet girl.