Buster was first found by a good Samaritan who fed the emaciated street dog and whose children soon fell in love with him. The man couldn't keep him, but contacted Duck Team 6, who found a foster so Dallas Pets Alive could bring him into the program, and did the hard work of catching the frightened pup.
When Buster came to Dallas Pets Alive, he was sick with roundworms, was Heartworm positive, and as his first vet visit revealed, both of his front legs were broken. That's a hard place to start from, but this boy not only thrived, he found a forever home before he was completely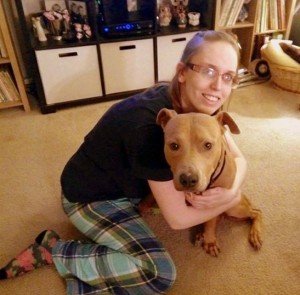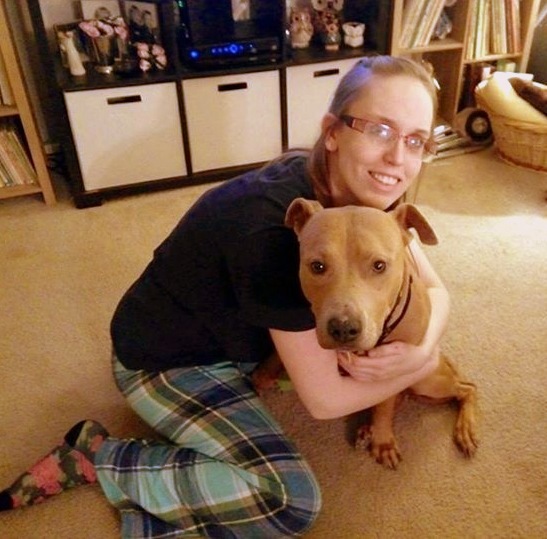 healed. [DT6 also donated the $800 for Buster's surgery!]

As Buster healed, his foster mom asked her dog trainer to come meet him. After an evaluation, she felt he'd make an amazing service or therapy dog. It's on that trainer's Facebook page that Kaitlyn, who was searching for a perfect service dog of her own, discovered him. Since she's certified to train her own dog, she decided she had to meet him right away.
When his new mom first met Buster, the connection was instant. In fact, he walked immediately to her side and sat beside her wheelchair — and when she would move, he'd move along with her. For a week after being confirmed as his future forever mom, she visited his foster home each day to spend time with her newly named "Bear."

With his recovery so strong, his prognosis so good and the bond so apparent, Bear was approved to move to his forever home a tiny bit early.
Today this carmel-colored boy is just 1 week of crate rest [part of his Heartworm treatment] and a return visit to the vet [to see if his pins are ready to come out] away from a clean bill of health and a brand new life. Bear's mom plans to train him herself to become her certified service dog.
"He is the BEST," Kaitlyn said. "I am so glad I got introduced to Bear! He's going to make my life so much better… we are going to be helping each other."