You may remember Kennedy. He was struggling to get his campaign for a "fur-ever" home off the ground with his partner Jackie O.
"They were pretty much bald from a bad case of mange," says Haley Edman, marketing director for Dallas Pets Alive! "Everybody kept passing them up."
Thanks to some medicine and TLC, Kennedy and Jackie O were ready for prime time.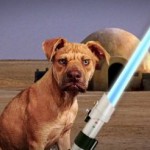 "Now they look beautiful and live up to their famous names," says Edman.
But Kennedy's destiny took an unexpected turn. Instead of landing at 1600 Pennsylvania Ave. with Jackie O, he needed to strike out on his own.
It started in "a galaxy far, far away" — the Internet.
"I actually saw him on a Reddit post," says Kennedy's new owner Claire Baxter. "Someone posted a picture of his adorable grumpy face. I saw it and knew that he was my spirit animal."
A new name completed Kennedy's move from politics to the ways of the force.
"In the new Star Wars movie, the desert planet is called Jakku and he looks like the desert, so I named him Jakku," says Ryan Baxter.
Even if the whole family isn't a huge fan of the "nerd-tastic" new name.
"He goes by Jack," says Claire. "That was our compromise."
"I'm the only one who calls him Jackku," says Ryan. "I wanted to have a Star Wars dog."
Whether you call him Kennedy, Jack or Jakku, it's clear that "the force is strong with this one."
*Many thanks to Newsfix CW33 and their Emmy Award-winning "Ruff Life" series on Dallas Pets Alive dogs.  
Ruff Life film shoots are hosted by Underdog Kennels, which donates 20% of its kennel space to Dallas Pets Alive!