[special blog post contributed by DPA Volunteer Kelsey Nichols]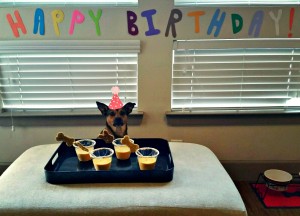 My oldest FURchild, Rose, celebrated her big "21" last weekend. Well, she turned three, which is about 21 in dog time. I wanted to make her an adorable and delicious 'cocktail,' and since it's almost Howl-o-ween, I made her Pumpkin-Loaded Cookie Dippers and 'Pupparitas.'
After making a thorough list of everything Rose likes and dislikes – YES to long walks and lounging with family, NO to blueberries and crowded parks – I knew her birthday needed to be filled with pumpkin, carrots, peanut butter and family time.
I decided to make Rose carrot, yogurt and peanut butter margaritas with pumpkin and banana cookie dippers for her big day.
I completed my party planning by making a colorful homemade 'Happy Birthday' sign, which can be seen in the picture of the birthday girl.
IF you're using this recipe to throw your pups a Halloween party, my suggestion is a spooky orange Happy Howl-o-ween sign, embellished in black glitter. I mean, if you're going to make your pups homemade cocktails, you might as well make a sign too, right?
After she thoroughly stuffed her face with treats, we opened presents and went for a late night walk. What a day! You can start planning your pup's birthday or Howl-o-ween party by using the recipes below.
'Pupparita' recipe: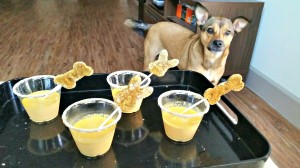 Two large organic carrots
Four tablespoons organic peanut butter
Two 6 oz containers of nonfat plain organic yogurt (free of added sugar)
Ice (I used about 25 cubes)
Two tablespoons organic peanut butter, melted
Two tablespoons oat flour
Cookie Dipper recipe:
One organic banana, mashed
4 tablespoons organic pumpkin puree
1 1/4 cup oat flour
1/4 cup rolled oats
Lollipop / cake pop sticks
Preheat oven to 300 degrees. Place banana in a large bowl and mash. Once mashed, add pumpkin puree, flour and oats. Mix until just combined.
With oat flour on your hands, roll the dough into a large ball, place back into the bowl and cover with plastic wrap. Let chill in refrigerator for one hour…your dog might wait patiently by the refrigerator during this hour.
Once chilled, sprinkle the counter top with oat flour and roll out dough to about ¼ to ½ inch thick. Using your pup's favorite cookie cutters, cut into shapes. Press a lollipop stick into the back of each cookie and add a small piece of dough to the back to ensure the stick will not fall out after cookies are baked.
Once the cookie has a lollipop stick in the middle, place onto a parchment paper lined cookie sheet.
Bake for 40 – 45 minutes and reassure your pup the treats will be ready in time for Halloween!
Remove from oven and allow them to reach room temperature before serving.
Kelsey Nichols is a DPA foster mom, DPA adoptive mom, DPA Marketing volunteer and DPA Rescue volunteer.