Dear Santa,
My name is Lemmon. My foster mom said I could write you a letter and ask for anything I want in the whole world.
All I want for Christmas is a family of my very own. I have been a very good girl. I was in a shelter and my last family didn't come to get me, I don't know why. I loved them very much, but they said I was just a dog.
My friends at Dallas Pets Alive came to get me and I got a bath, a new collar and leash, and food every day. I get to live inside my foster mom's house and play with my foster sister. Guess what Santa? We have TOYS to play with! It is so cool here, but my foster mom says that there is a family out there looking for me…and that they will be so lucky to have such a good puppy like me…she says I'm such a good dog…I play nice, I'm so sweet…she goes on and on…but I'm just being myself! She said that one day they are going to come and adopt me and I will go live with them.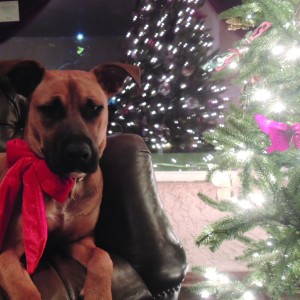 I will miss my foster home, but I would LOVE to be adopted and have a family of my own. All I want is a person to love. I promise to love them back no matter what. I want to be able to sleep inside, but still play outside.
Santa, can I have a back yard? I would love to have a brother or sister to play with. I LOVE to play! I promise to be a good girl Santa! It would be OK if I had toys to play with too….and FOOD…and TREATS! I hope I'm not asking for too much, Santa.
All I want for Christmas is to be adopted. Will you please help my family find me? I really want to spend the holidays with my new family. I will wait here at my foster home until they come for me. I promise to be a good girl! Santa, I promise not to bark when I hear you sneaking into my new home at Christmas…you're one of the good guys!
Kisses and Hugs!
Your friend,
Lemmon