Are you looking for fifty pounds of happy, intelligent energy? Would a loyal companion with polka-dotted ears and an easy smile be on your 2017 wish list? Well, look no further because Dallas Pets Alive has a very personable, white, four-year-old Parson Russell Terrier mix named Roo, who is looking to adopt the right person or family.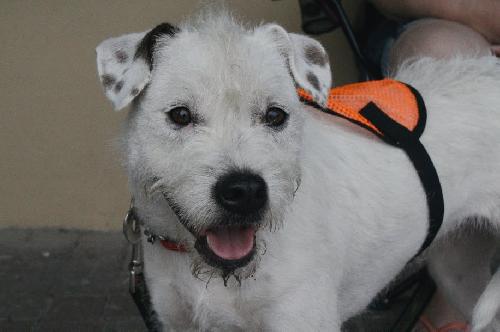 If you've ever seen the t.v. sitcom Frasier, you may remember Eddie, the eager and responsive Jack Russell Terrier who stole the show each week with his hysterical antics. Roo's breed is a cousin to Eddie's. She has the same temperament, but is more obedient, adaptable and easier to train than a Jack Russell. And she will make a fantastic family pet! She will be an excellent companion and will make a wonderful watchdog.
About Roo:
Roo wants to adopt someone who can stay current with her look. She is a very fashionable pet and often rocks out. Check her photos, people. She looks fab sporting a red collar or a pair of blue sequined rabbit ears. She is already stylin' and ready to meet her fans! Can you keep up?
In addition to being stylish and cute, Roo has bypassed the traditional boundaries of canine/feline job responsibilities and is an expert mouser. Yes! Now how much would you pay? A mouse-catching dog isn't a common commodity these days. In addition to her other skills, Roo is house-trained, crate-trained and knows some simple commands!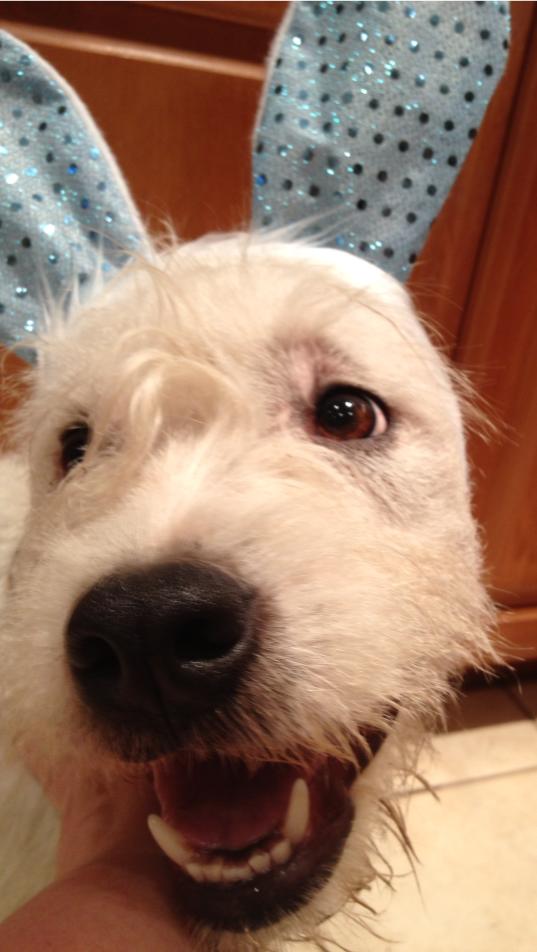 Roo's Beginnings:
Roo's early days were a bit rough, and we are hoping to make up for that by finding the right home for her. She was rescued and taken to a city shelter as a puppy and was diagnosed with Parvovirus, a serious and often deadly disease. Roo's true colors came through when she beat Parvovirus and became an alert, happy and healthy dog. All she needs now is a forever owner. She wants to share her strength and spirit with the right person or family.
Adopt Roo!
Roo is looking to be a blessing to someone. Is it you? Are you the kind, patient dog-lover who has time to show affection to Roo in xchange for a lifetime of unconditional love, devotion, loyalty and a whole lot of laughs? Can you commit to daily cuddling on the sofa? Are you in need of a lifelong companion? Are you ready to put a special pet into your kangaroo pouch and hop off into the sunset? If you are, you may want to meet our friend, Roo. The line forms to the rear
For January only, Roo's adoption fee is $100 (50% discount). Apply to adopt Roo at bit.ly/DPAroo.