Is he black on white or white on black? Is he light on shadow or shadow on light? I just can't decide. Whatever the case, the tuxedo markings on Jasper set him apart, making him look like a pianist in a jazz club or the perfect prom date, which gives him a slightly distinguished look. Maybe that's why people say he's elegant! He's a Domestic Short Hair mix with beautiful, soft gold eyes with a white chin, bib, belly and paws. All he needs now is a red rhinestone collar, a pair of sunglasses and a Miles Davis CD. If you don't know who Miles Davis is or what CDs are, think of Jasper getting ready for a smooth Michael Bublé concert.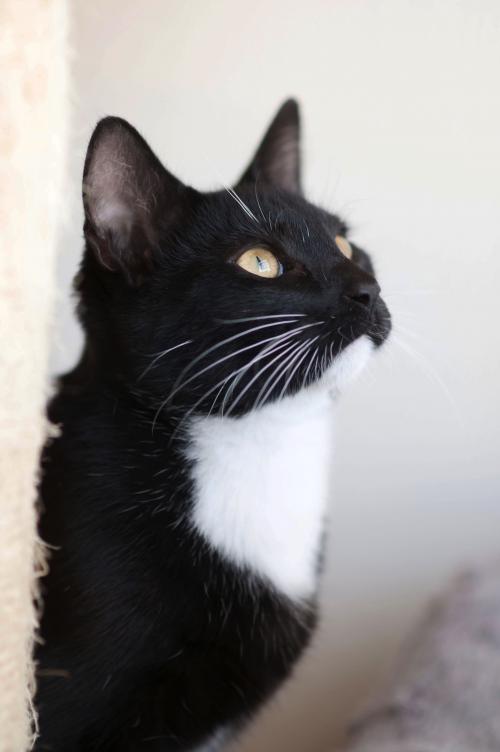 About Jasper:
Jasper has a big fan club and it's not just because he's so handsome in his tux. His foster family describes him as fearless and inquisitive. I suppose that's because he loves to play with a laser pointer and small toy balls for most of the day, forever exploring his environment and finding ways to blaze a path to adventure in every room of the house. He's an active prom date who loves to jump and climb. But he has another side, too. He is always ready and eager to give you all kinds of quiet affection. And when the dance is over, he loves to roll over and let you rub his belly. Ah, this is the life!
True to his cool, James Bond personality, Jasper is adaptable and will be comfortable in any home. He is good with other cats and dogs and is friendly around people. He was the oldest of five kittens and has been socialized well – it's rare to find a cat so calm and accepting!
Jasper's Beginnings: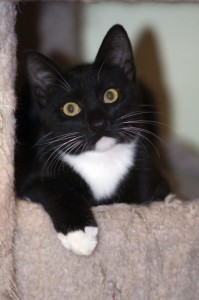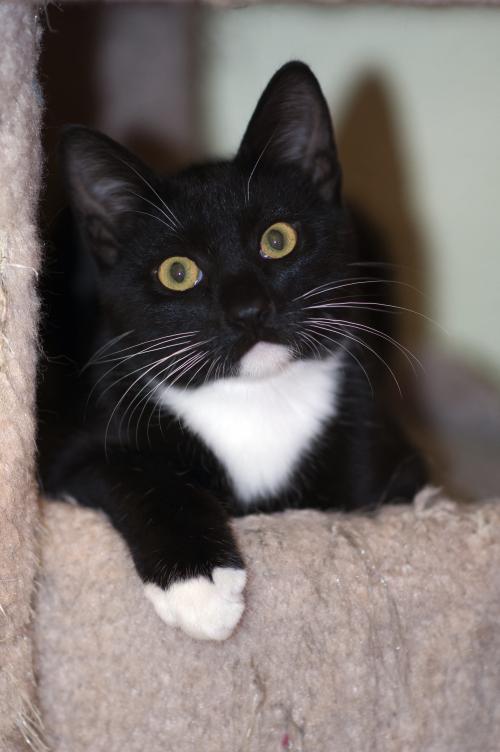 Jasper came up from the streets of Dallas, but even in his early days, he kept it classy. You see, Jasper was part of a colony of cats our Trap, Neuter and Release (TNR) team manages around a local bank. As with most retail venues, it is a high traffic area that poses many threats for community cats. He was the last of his siblings to trap and boy did he make us work for it. After 6 hours of trapping in freezing cold temperatures, the trapper did not give up. Jumping fences, hiding behind walls and recruiting a second person to keep watch, Jasper was nabbed bare-handed as part of a comprehensive TNR program to help get Dallas to a no-kill status. Since Jasper was too young to be released back into the colony, we pulled him into our program for adoptions.
Adopt Jasper:
Jasper is a young, healthy cat who is looking for someone to become his forever owner or family. Is it you? Are you willing to let this lively, sophisticated little cat slink into your life and watch him perform his jazzy antics? Are you a kind-hearted cat lover with lots of room in your life for the unconditional love of a feline? If you are, I think we have the right companion. We have a real cool cat for you!
For January only, Jasper's adoption fee is $50 (50% discount). Apply to adopt Jasper at bit.ly/dpa_Jasper.