Guest blogger: Kelsey Nichols
I'm the former foster mom of this beautiful pupster, Buffy. You're probably wondering, how did you give up that adorable face? To answer that question, I didn't. I'm known in the fostering world as a "foster fail," and that's okay.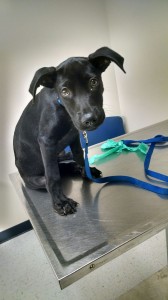 You'll learn more about Buffy in this series – and why fostering a dog is a great experience, even if you only do it once.
This is the first post in a blog series to help answer questions and provide tips to anyone who's thinking of joining the foster community. As a rescue group with no physical shelter, we rely on our foster parents because without them, we couldn't save any lives.
A little bit about Dallas Pets Alive: DPA is a no-kill animal rescue group based in Dallas made up entirely of volunteers. We often post on our social media pages about dogs in danger of euthanasia at the pound. When we ask a person to save a life, we are asking a lot from them. We're asking that they commit from a couple of weeks to (in rare cases) more than a year of their time to give a rescued animal a temporary home.
When first-time foster parents fill out the foster application form, a lot of them might not have any idea what they're getting themselves into. They just know that they need to help an important cause and save a life.
If this post convinced you to join the foster community, feel free to contact foster@dallaspetsalive.org with your questions. Still not fully convinced that fostering is for you? There are more posts to come that will tell the good, the bad and the incredibly cute when fostering.
Kelsey Nichols is a foster parent, adoptive parent, social media volunteer and rescue volunteer for Dallas Pets Alive.