Written By Julie Adams Gray
Bella proves the right family can transform a scared dog with a troubled past into a vivacious, playful pup. Bella has a new name, a new home and a new outlook on life. She is now Molly, living with her mom Haley, dad Stephen and doggie brother, Marshall.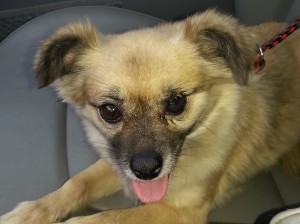 Haley had no idea on a day out with friends she would fall in love. She and her best friend came across a Dallas Pets Alive adoption event and just couldn't resist loving on the animals. Haley noticed a volunteer holding a cute, calm dog and couldn't get over the pup's sweet demeanor. The rest is history.
Molly is about three years old: a small, Pomeranian-Chihuahua mix who was surrendered by her owners to Dallas Animal Services. Volunteers and veterinarians suspect she may have been abused, because she was loving and enjoyed being held, but was quick to run away and cower. She snapped and growled at other dogs, possibly afraid they might hurt her. Haley says they knew all Molly needed was a little extra love and patience.
Molly also had an entropion issue in her eye due to past abuse —  a medical condition in which the eyelid folds inwards, causing pain and inflammation. It's usually a genetic issue, but doctors found additional damage further back above her eye, and underneath the skin of the eyelid. Two surgeries later, Molly is as good as new!
Haley and Stephen were excited to bring Molly into her new home, and they knew their one-year-old pug, Marshall, would love a best friend. Molly, however, wasn't so sure about Marshall at first. She snapped and growled, but he seemed determined to win her over. Soon enough she didn't want to sleep in her own bed — she wanted to sleep right beside Marshall in his bed. Haley says at first Molly didn't want to run and play with Marshall either, but that changed, too. Before long, Stephen and Haley found the pups happily chasing one another around the house.
Molly has a new lease on life, and Haley says her growling and snapping is gone. Early on, she wasn't friendly to other dogs at the dog park; she would shy away from them and refuse to play. After a few return trips, though, her foster mom says Molly is running and playing with the other pups like a pro.
Haley is thankful to Dallas Pets Alive for leading her to their new furry daughter. Together DPA, Stephen and Haley helped transform a broken dog into a happy, healthy family member.