"Danielle's superpower is to create lasting relationships that ultimately result in DPA being able to save more lives in a collaborative effort. Under Danielle's leadership DPA's transport program has grown 83% from 2019 to 2020 and saved over 175 lives this year to date alone. Danielle works tirelessly to coordinate transports and is also an active part in delivering animals or even driving them to a meeting point herself. Danielle was also able to recruit a multitude of new transport partners to expand our success even further. Transport updates are some of the most liked posts on our social media, our followers all over the United States love seeing the stories of animals being transferred into their furever homes with Danielle's help and dedication." -Sara W., DPA's Social Media Director
Danielle started as a foster in 2017 and now has turned into the Director of Transport queen! Read more about her below:
What does your role within DPA involve? What do you oversee within the organization?
All things transport. From finding new partners and building those relationships, scheduling the transports, helping partners find dogs and cats that are the best fit for their rescue, coordination the entire process, and driving transport when I can, my dad is usually my co-pilot 🙂 I also keep track of our admin side of things as well as making sure I'm keeping my team's expenses down, tracking all the money that's spent on everything that involves transport.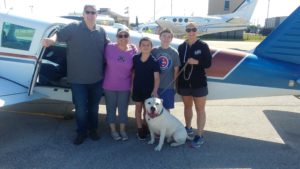 What is your professional background?
I work in the accounting department of a small firm in Dallas.
How long have you been involved with the organization?
I started with DPA September of 2017 as a foster.
What drives you to dedicate your time to DPA?
Each and every animal has a story and being able to see them off to start great lives all over the US through our out-of-state partners and opening homes for more animals to be saved is what drives me. It's the worst stories turning into a happy tail story and being able to say I was part of their journey, it's a rewarding feeling.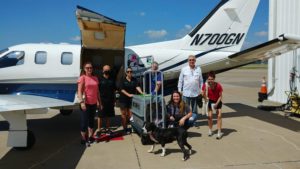 On average, how many hours per week do you volunteer?
I'm not sure you really want to know, LOL. I'd say 25+ hours a week at least. My evenings and weekends are basically spent doing what I love and that's working to create the next happy tails story.
Tell us a fun fact about yourself.
I used to go to the gym religiously every morning for several hours, I would say I used to be addicted to working out until I joined the rescue life and traded my gym shoes for leads. Foster dogs and now transporting dogs and cats.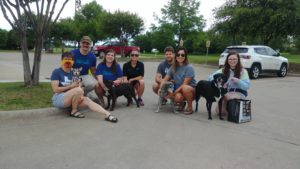 Be Pawsome like Danielle. Apply to be a Dallas Pets Alive! volunteer or foster today!