"Christina has been a DPA family member since 2014 using her time, talent and treasure to help DPA further our mission. Christina has used her leadership and relationships to recruit event volunteers and guide our events to fundraising heights. She took the lead in establishing DPA's online store and our first gala in 2019. Over the past year, due to the challenges of Covid, Christina led DPA's efforts to transition to virtual fundraising events with super creative and fun activities to keep the DPA family connected. Today she continues to lead our Fundraising Events team and has added the role of adoption counselor because of her love for connecting families with our amazing DPA rescues! 
What would I, (and all of DPA), do without her? I could not ask for a better partner in fundraising or a more inspirational advocate for our mission!" –Leslie S., DPA's Executive Director & Founder
Christina says it best "I came for the animals, I stayed for the people." Christina's passion for animals and connections with the "human" side of DPA makes her an amazing leader and volunteer. Read more about her below:
What is your current role?
Events Director, Adoption Counselor, and Support Squad (Support Squad is DPA's group of experienced foster parents who assist newer foster families with any behavioral issues that may arise with their foster pets.)
What is your professional background?
I am the Assistant Controller for Phoenix Capital, a private equity firm.
How did you get involved with volunteering at DPA? How long have you been involved with the organization?
I started out as a foster parent in 2014 and asked if there were other ways to get involved. I joined the Adoption Team in 2015, and have slowly added more to my plate since then.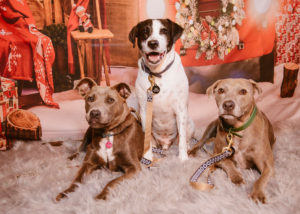 What are you most passionate about at DPA?
I love how DPA helps make/keep families complete. I have adopted 3x from DPA, and have had family and friends foster and adopt and I love seeing the joy it brings to people's lives. I am a big fan of DPA's PASS (Positive Alternatives to Shelter Surrender) program which helps keep pets in their existing homes by offering financial support for medical or behavioral issues.
What are some words of wisdom to new DPA Volunteers?
Find something you are truly passionate about helping with right off the bat, the more passionate you are about your volunteer work, the less likely you are to burn out or get bored.
What drives you to dedicate your time to DPA?
I came for the animals, I stayed for the people. I have met some of my best friends through DPA who will be in my life forever.
Give us a fun fact about you!
I started volunteering at Waco Humane Society and fostering dogs in 2010 because one of my professors at Baylor University offered extra credit for doing so. Needless to say I got hooked, and as soon as I graduated I looked for opportunities to continue with animal rescue in Dallas and found DPA!
Be Pawsome like Christina. Apply to be a Dallas Pets Alive! volunteer today!