"Allison is always at the ready to step up and share DPA's story in creative and innovative ways. Although she does not live in Texas her love of DPA and our mission cannot be missed even all the way from the East Coast. Allison is key when it comes to streamlining and organization our marketing plan and voice. I am so grateful to have her on our team, she plays a pivotal role in ensuring our rescue animals are able to be heard and seen!" – Leslie Sans DPA!'s Executive Director
That's why Allison Treloar is a DPA Pawsome Person! Learn more about her below:
What does your role within Dallas Pets Alive! involve? What do you oversee within the organization?

As Marketing Director, I'm responsible for promoting Dallas Pets Alive! and our adoptable pets through our various communication channels. This includes working with a talented team of volunteers to keep our website updated with new content; strategizing ways to showcase our adoptable animals on social media and through adoption promotions; creating fundraisers and appeals for our pets' emergency medical needs; educating potential fosters, volunteers, and donors about the amazing work DPA does; and so much more!
What is your professional background?
I've worked in different areas of marketing throughout my entire professional career, in a diverse group of organizations and industries. It's a privilege to be able to use my experience and skills to support Dallas Pets Alive's mission and help find loving, forever homes for Dallas' shelter pets.
How long have you been involved with the organization?
I'm coming up on my one-year anniversary with DPA! I am extremely fortunate to work alongside a group of talented, dedicated, and enthusiastic animal rescue volunteers who have changed the lives of thousands of homeless animals in the Dallas community.
On average, how many hours per week do you volunteer?
It varies, depending on which projects & priorities we are working on, and whether you count watching adorable cat videos as "marketing research." I hope to be able to dedicate more time in the coming year, and also make better use of my two feline "assistants." Their work ethic leaves a bit to be desired, but they are great at keeping my important files and paperwork secure…by napping on them!
What drives you to dedicate your time to DPA?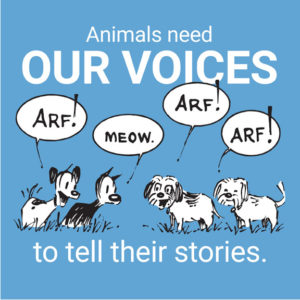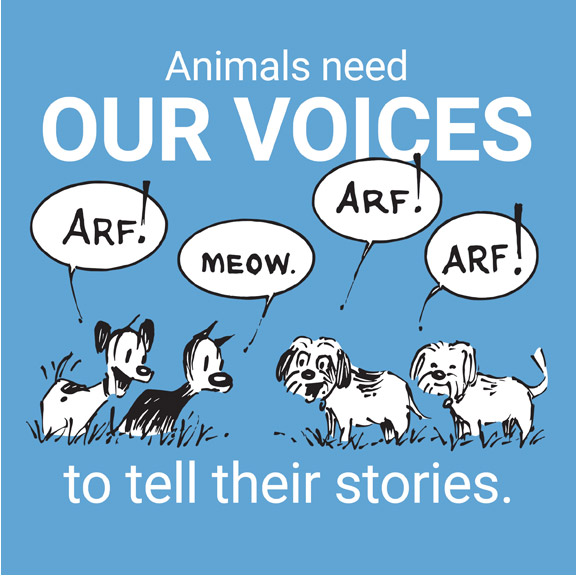 It's best summed up with an illustration from Patrick McDonnell, the creator of the Mutts comics. It reads: "Animals need our voices to tell their stories."
I believe I have a responsibility to use my marketing and communications skills for a cause close to my heart. DPA's amazing marketing team gives a voice to Dallas' homeless animals most at risk for euthanasia. We tell the animals' stories of sad beginnings, but we focus on their inspiring stories of recovery, lifesaving transformations, happy endings, and second chances.
These stories wouldn't be possible without the countless hours of hard work by DPA's Animal Operations, Rescue, Medical, Foster, Events, Adoption, Alumni, TNR (Trap Neuter, Return), PASS (Positive Alternatives to Shelter Surrender), Transport, Technology, and Administrative volunteers. It really does take a village!
Tell us a fun fact about yourself.
I'm very proud of my willpower and self-discipline, but it went to mush when I adopted my cats. They had ME trained in less than a week. It's their world; I'm just the humble servant whose only purpose is to cater to their every whim. And I wouldn't have it any other way!
Be Pawsome like Allison. Apply to be a Dallas Pets Alive! volunteer today!