"Kenzie is an amazing foster. Not only does she save lives, she takes on our most complex medical cases. She does not shy away from a dog that has major skin conditions, major orthopedic issues or chronic heart conditions. And right now, she is dealing with all three in her two foster dogs, Rhya and Laila.
She is a protective mama bear and makes sure that all her fosters get the right care no matter where they need to go to get it. Name the specialist and she will find a way to make it happen. On top of it all, she rivals our vet clinics with supplies to be prepared for any circumstance. 
We love that she will take pitties to puppies, the ones that are critical and might not make it, to the ones that will definitely be a long road before they are ready for adoption. She takes dogs knowing they will not be easy to foster, but she loves them like they are her own. And the icing on the cake? She makes sure they learn to be well behaved, and will likely know a trick or two." -Jessica D., DPA's Medical Director
It is safe to say that Kenzie is not only a valued DPA foster, but a skilled one at that. Learn more about her here:
What is your current role(s)?
Social Media Coordinator and Foster Parent
How did you get involved with with DPA?
I used to volunteer at the animal shelters until the pandemic hit. After that, I was researching different ways to help animals. including fostering, and came across DPA.
Tell us about a few of your fosters.
I've fostered a countless number of animals since 2017 with various rescues. However, since joining DPA in 2020, I've fostered 5 fosters for this rescue.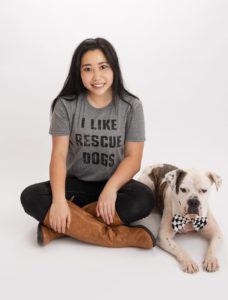 Duke – He is a 5 years old bulldog/Pitbull mix. He was rescued from the Dallas Animal Shelter with severe antibiotic resistant staph infections in May 2020. He has lost all his hair and needed a safe space to heal. Duke has the cutest dance and the funniest personality. Duke was adopted in October, 2020 to the most amazing family.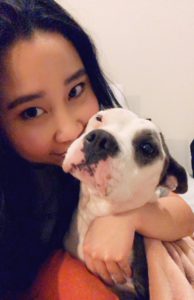 Rhya – She is a 4 years old little pocket pittie. She was rescued from the Dallas Animal Shelter on Christmas Eve of 2020. Rhya was extremely sick with a right-sided heart failure. Her stomach was filled with 20 lbs of fluid. Originally Rhya was labeled as a hospice foster. However, since then, this girl has officially been cleared as a hospice case and back on the road of recovery. Despite all of this, Rhya is still the sweetest most patient pup who wants nothing more than kisses and love.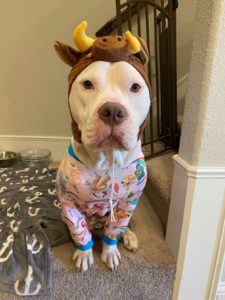 Laila – She is a 2 years old Pitbull mix. She was rescued from Dallas Animal Shelter in May 2021. Laila went through TLPO surgery and suffered from a terrible staph infection. She is currently on the road of recovery. Laila is the sweetest little baby who enjoys sunbathing and cuddling with foster mom. 
What is your favorite animal adoption story?
Back in 2017, I rescued a dog that was abandoned in an outside kennel. She was living in her own feces in the middle of winter. I took her home with me and named her Angel in the spirits of the holidays. Angel was a tough case as she never received proper training and love. After many months, and countless adoption applications later, I finally found Angel's perfect home. The parents were extremely patient and consistent with Angel's training. Fast forward to 4 years later, I still receive many updates, pictures, and funny stories from Angel's mom. This gorgeous border collie came from living a life outside with no love and warmth to a house filled with toys, cuddles, and happiness.
What do you love most about fostering with Dallas Pets Alive?
I love the community that DPA is built upon. Fostering extreme medical cases can be tough at times, but I always receive a tremendous amount of support through the rescue. Ever since joining, I've made so many meaningful friendships with incredible people who share the same love of animals as me.
What would be some words of wisdom to new DPA Fosters or volunteers?
There are so many different opportunities to be involved with DPA. If you love helping animals and creating long lasting friendships, talk to us and let us help finding the right opportunity for you.
Give us a fun fact about you!
Aside from having 5 dogs, I also have a yard toad named Henry and a rabbit named Bun Bun.
Be Pawsome like Kenzie. Apply to be a Dallas Pets Alive! foster today!