Suleika has dedicated so much time and resources to DPA over the last few years. She has saved countless of lives by fostering dogs that were at risk of euthanasia and has given them the chance to start the rest of their lives. Each foster that she has had gets a unique name (i.e. Benoit Bensimone, Chiquita Bonita, Ambrosius) and the most adorable outfits to match their personalities. These pups become part of the family and will often participate in dinner parties, pub crawls, movie nights, and some even become Instagram famous (@thepocketpup & @bowtie_colin)! Suleika and her husband, John, are in it for the long haul. They don't pick the easy ones, and have cared for countless dogs through heartworm treatment and invasive surgeries. Suleika finds creative ways to get all of her fosters marketed and adopted quickly so that she in turn can save more lives. Two defining characteristics that make Suleika stand out are her welcoming personality matched with her huge heart. She has formed relationships with many of her fosters FURever families and will even puppy sit when they head out of town! Suleika does it all and has even played multiple volunteer roles behind the scenes of DPA. She is such an important and valuable asset to our team and are so glad to have her on board for the long run! – Stefanie Steiner, Foster Director for Dallas Pets Alive!
This is why Suleika Bloom is one of Dallas Pet's Alive's PAWesome People!
How did you get involved with Fostering with DPA?
My husband and I had fostered many dogs in North Carolina and when we moved to Dallas I knew we wanted to do the same in Texas. Just a couple months after buying our home, I started following foster groups on Facebook and ran across DPA. That's when I saw a sad, scruffy white dog in the shelter that had been posted on their page with an urgent plea for a foster. We couldn't say no to that sweet face! It was just before Thanksgiving of 2013 when we pulled our first DPA foster, Marlon Brando, and we haven't stopped fostering since.
Tell us about a few of your fosters.
We have fostered dozens of pups and I can honestly say each has been lovable and wonderful in their own way. It's hard to believe anyone would give up on these precious souls. They have all been so awesome. Some of our most interesting fosters:
Hashtag – small, scruffy deaf dog. He had extreme separation anxiety and would bark for hours on end until he didn't have a voice. How did he know to bark? Hashtag ended up with a wonderful, patient adopter who was willing to work on his anxiety and love him unconditionally. He has become a well-adjusted dog since being adopted.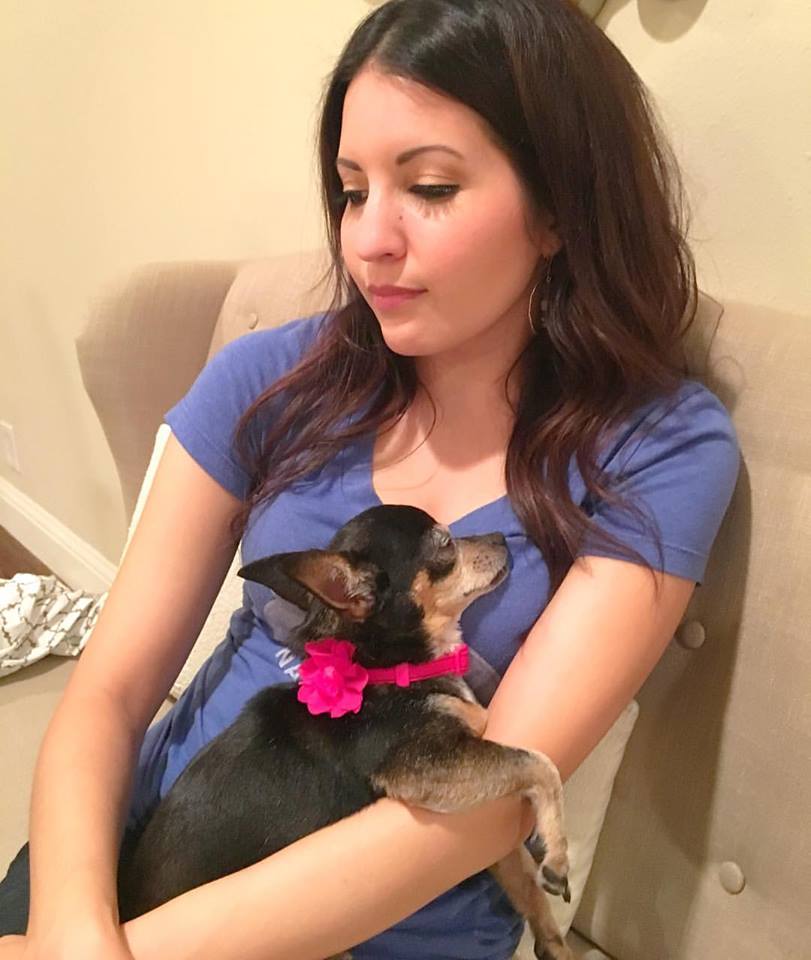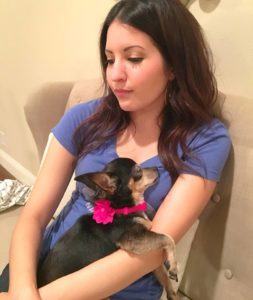 Basil – our one-eyed white Chihuahua mix. She had the cutest personality and despite having just one eye, she was the happiest dog we've ever met. Basil was adopted just two days after we pulled her from the shelter so she was our fastest adoption yet. She's currently living with her amazing family in San Francisco and living the good life.
Bruiser – tiny, 3.5 pound white Chihuahua is the smallest dog we've ever fostered. Despite his small stature, he was the most relaxed, easy-going dog we've ever had. Nothing bothered him and he was always content, so un-Chihuahua like! He ended up getting adopted by an awesome lady and her husband who are home all the time and make sure to spoil him endlessly.
What is your favorite animal adoption story?
We had a foster dog for six months named was Mr. Molesley (named after the beloved Downton Abbey character.) Mr. Mo was truly a quirky, one of a kind dog who had grown really attached to me and I knew it would take a special person to fall in love with him. Sure enough, his adopter found him on the DPA web site and was instantly smitten by his photos. The weekend before we took him to his new home, his new mom was dropping off her oldest son at Texas Tech, which is also my alma mater. So we photographed Mr. Mo with a bunch of TTU memorabilia and sent it to her. She loved the photos. I cried so much when we dropped him off and I usually never do that but his adopters knew I really loved him. Almost three years after his adoption, I still get photos and updates of Mr. Mo on many adventures, including from his summer home in Colorado. I still miss him but we are so glad he is living the good life.
What do you love most about fostering with Dallas Pets Alive?
I love fostering with DPA because they are extremely organized and professional. They make the fostering process seamless and a pleasure to be a part of. It's so wonderful to be surrounded by such a passionate and dedicated group of animal lovers. DPA volunteers are the best around and I'm so proud to be a foster parent with this group!
Give us a fun fact about you!
I never was allowed to have any dogs growing up because my mom didn't like them. I've made up for it though – We have four dogs and have fostered many. I've also converted my mom into a dog lover as she calls our pups her "grand-dogs." People can change and I believe dogs can unlock a special part of your heart with joy and happiness you never thought possible. My husband is also a dog-lover and is the most supportive, helpful foster husband ever!
Be like Suleika:
Sign up to foster with Dallas Pets Alive!