Meet Elliott, a Staffordshire Terrier mix with a playful nature known for affectionately following her favorite people around the house and befriending others with her winsome charm.  She's (yes, Elliot is a girl!) an attractive brown and white pup with a stocky build and deep brown eyes who looks good in a green feather boa but prefers to be seen near–or on top of–her favorite people.  Whether she is curled up in the crook of your knees or playing with the other dogs she lives with, she is an affectionate companion who craves your company.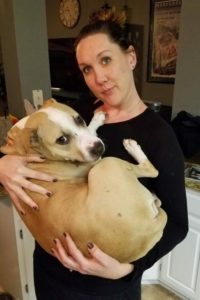 Elliott was at a local shelter expecting a large family–nine puppies–when Dallas Pets Alive! volunteers first met her.  She shows some scars and hasn't had an easy life but, against the odds, has learned to trust people and show a whole lotta lovin' through kisses, hugs and loyal companionship. We are so happy that all of her adorable puppies have found good homes, but now it's Elliott's turn to find the right one!
Elliott is a strong, smart, athletic lady who would love to live with another dog her size to share her enthusiasm for playing fetch and tug-of-war and just chillin' out at home.  She's good with kids, is house and crate-trained, obedient, fun-loving and walks well on a leash.  There's a lot that's right with this special pup! You could say she's the total package. 
Could you give Elliot the second chance and forever home she deserves? Apply to adopt her today!