This could be the most memorable Valentine's Day you've ever had. In fact, it could change your life forever. You won't need cupids with harps on greeting cards, bouquets of flowers or dinner reservations, but you will need a big heart and some dog biscuits. We have a special someone for you with four legs and a happy tail, looking for a permanent home to call his own!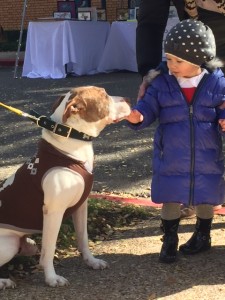 Meet Mickey, a charming dog with a friendly disposition who is known for his good behavior and love of kids! Mickey's personality really shines through in the lifestyle photos that his foster family has taken of him. He's a loving and loyal friend, and it's not just puppy love, it's the real thing. He's fond of people, frequently cuddles up to someone, and even enjoys putting one paw on your leg to get you to "hold his paw." A dog that wants to hold your hand in more ways than one, Mickey is going to be a wonderful addition to someone's family. His foster mom says she's never seen such a loving dog! When you hear of his affectionate and loyal nature, it's easy to see why he is Dallas Pets Alive's choice for the February dog feature. He is obviously going to bring a lot of canine love to some fortunate home.
About Mickey:
Mickey is a four year old Boxer/Pit Bull mix with a short coat that features some adorable cafe-au-lait spots on a white background. Add some expressive ears and soulful brown eyes, and you've got a charming pup who hopes to be your date this Valentine's Day! Mickey, who can be described as having a zest for life, also has his own sense of canine style and seems like a really good sport when it comes to fashion. He has been seen showing off colorful collars, coats and costumes of all varieties. His portfolio of heart-warming photographs speaks for itself.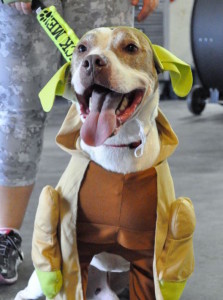 Mickey, like all of our Dallas Pets Alive animals, had a rough start in life. Mickey was in the shelter for a while and was about to be euthanized when DPA stepped in and found him a suitable foster home. Despite having some hardships early on, he is eager to trust people and accept their kindness. He has no problems wanting to be with, and serve, his human friends. He prefers to be the only animal in the household and enjoys just spending time with his family as they binge-watch TV together or take a drive in the car. This special pup loves to love you–and just about anyone else who comes across his path–and he won't be happy without a family of his own. In short, he is a devoted friend who just wants to be a part of a home filled with people who love him!

Adopt Mickey:
Are you looking for a courageous, loyal, affectionate Valentine's date who has the desire to please? We might have found you the best type of valentine: the kind who's there for you furever! Mickey has a Ruff Life video on our DPA website, so you can take a look at this heartthrob in action. Do you hear music? Are you walking on air? If you think this dog and his sweet temperament would fit into your life, let us know. You won't regret making Mickey your new valentine!
Mickey is looking for his furrever Valentine, and to celebrate this holiday, his adoption fee is only $14 through the entire month of February! Apply to adopt Mickey today!