Say hello to the charming Stella, a female Australian Cattle Dog/Blue Heeler Mixed with soft light brown and cream coloring and a winsome smile!  This unique girl is a study in contrasts — she is both cuddly and independent, prefers not to bark but loves to talk, and is an affectionate cuddle bug but likes to choose who, where and when.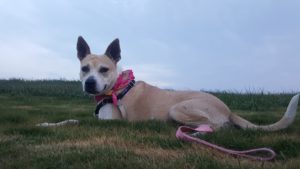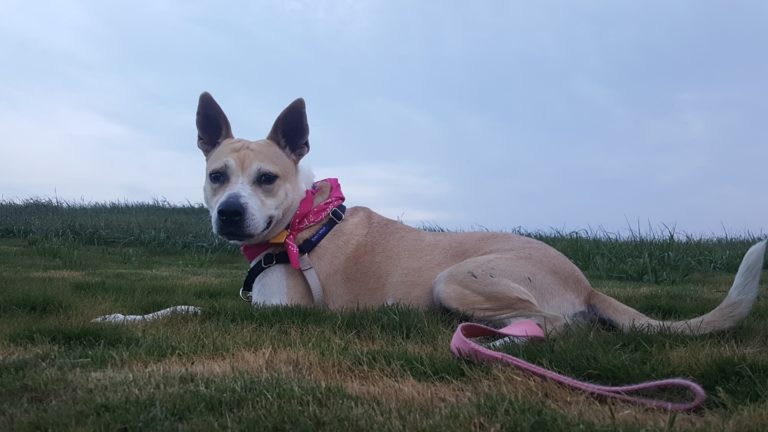 Stella was rescued from a shelter and has done very well in her foster home, quickly establishing herself as a member of the household and earning the title, "Queen of Comfy" because of her penchant for sofas and beds.  She's a classy canine who even has her own pillow which she carries with her, placing it in the proper location and fixing it with her paws to get the desired shape and softness.  
While Stella likes to take human affection at her own pace, she is more than happy to help you wake up in the morning by giving you little kisses and snuggling up to you in bed.  She loves the sound of her foster's voice and sets her tail to wagging when she sees her come through the door 🙂  
Stella is well-behaved, house broken, loves to be with other dogs (her size or larger) and makes friends easily.  She does well in a quiet environment, preferably with active adults who can walk her twice a day.  Having her own yard would be a great idea, but she would do well in an apartment, too.  
Ready to start the new year off right?  Consider adding Stella to your household and resolve to share your home and your love with a great companion.  You won't regret making that resolution!  Apply to adopt her today. Now through January 31, her adoption fee is 50% off!