Are you a trendsetter?  Are you willing to sport a new style with a new attitude?  We hope so because this season's "Pet of the Month: Feline Edition" is seeking suitable candidates for its new, fun concept.  We here at DPA! think "Feline is the New Black" and we are ready to show you how truly fashionable you can be with the right darkly-colored kitty by your side.  
Move over, Halston…because these black cats are ready to take over the runway and strut their stuff!  
Boo–Here's Boo sporting a luxurious black coat that sets off her beautiful golden eyes.  Balls and feathers are her favorite accessories, so Boo's new owner should be ready to play.  This fashionable little cat also loves to snuggle up with her favorite people and is never short on conversation.  Boo, you look fabulous!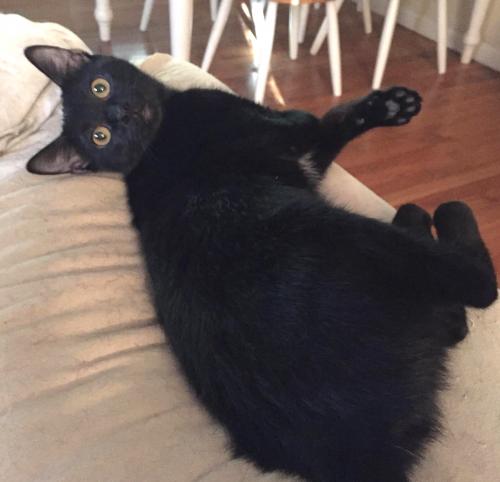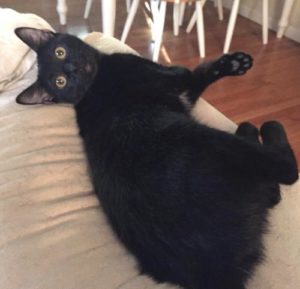 Raven–We are loving what Raven is doing with her black, silky fur and yellow eyes.  The "panther look" is hot this season and Raven is really working it.  This special cat is known for social skills and great manners.  She's a cheeky cat who loves to recline on the dog beds when her canine friends are in their kennels.  She puts the "companion" in "companion animal".
Luna — This sophisticated beauty is looking sleek and tre chic in basic black.  She is often seen accessorizing with foil balls, catnip toys and any type of cat toy that dangles.  Luna looks sweet in a pink collar and is as comfortable looking out a window or sitting next to you as she is on the runway.  When she isn't being fashion-forward, this sweet kitty is fond of lounging in her hammock.
Millie— Here's Millie, a cat of contrasts, successfully showcasing both black and white with her tuxedo markings.  When Millie isn't following you around the house, she's hanging out with other cats and kids.  Her congenial nature is her best accessory.  We think she's making loyalty and affection this year's fashion statement.  Millie, you look amazing!
Zoe— Zoe is wearing a fab black and brown tortoiseshell look that suits her to a T.  She is as happy cuddling in the crook of your arm as she is busily accessorizing with cat toys.  We think her signature look is second only to her affectionate nature.  And running and jumping is a favorite past time for Zoe, so she is sure to keep you entertained with her antics.
There you have it, DPA's Basic Black collection!  
June is Adopt a Cat month, so all adoption fees on these black beauties throughout the month are 50% off. Apply today!