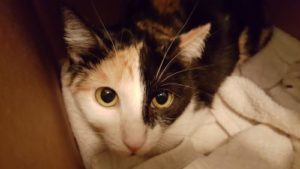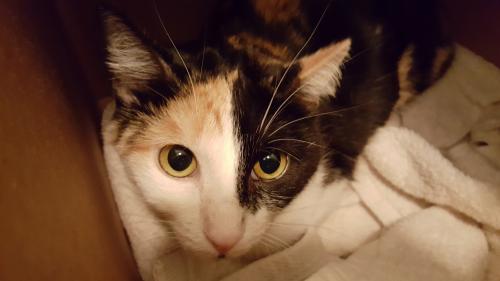 Annie is a colorful two-year-old Domestic Short Hair/Calico mix with pretty gold eyes. She's a patchwork quilt of brown, black and white shapes who can certainly hold her own in the cuteness category!
This little gal has a sweet personality, is quite talkative and just loves to get some human attention! She may seem a bit shy but she'll purr the minute you start to pet her and perks up when another friendly cat is there to romp around with. She's a curious, playful kitty who likes her toys (even at night) and would no doubt enjoy being in a household with the opportunity to play.
Annie will need some time to adjust to her new fur-ever home. She was rescued from a hoarding situation and needs some compassionate, patient people to help her learn that she can rely on humans for what she needs. If you have a patient nature, the time you invest in this little cat could pay big dividends. Annie has a lot to offer!
Since Annie is our Cat of the Month her adoption fee is 50% off through November 30. If you think she could be the one for you apply to adopt her today!