Zoe, the name itself means "life" and this sweet little cat sure has the right name because she's full of love and energy!  Her foster mom describes her as a calm, patient and gentle companion who loves lots of cuddling.  An attractive  Domestic Short Hair Tortoiseshell Mix, her short multi-colored coat of brown, black and tan is offset by a pair of pretty light green eyes.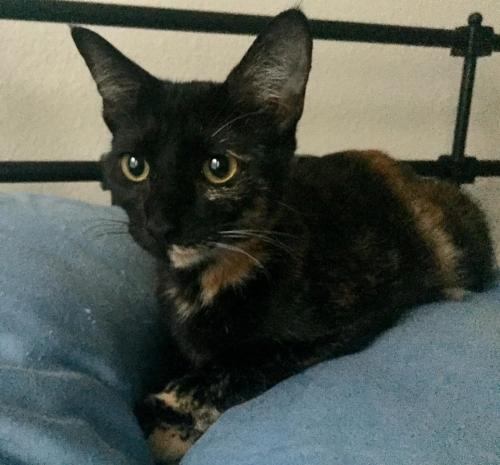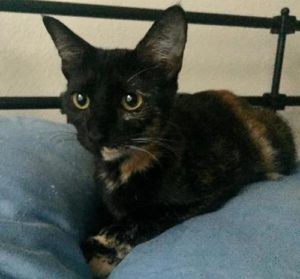 Zoe loves to play and we hear she is the athletic type.  In fact, she might be secretly watching ping pong tournaments on ESPN and perfecting her own technique because she absolutely loves running around the house at high speeds and playing with ping pong balls.  And if you are in need of a companion for those TV and movie marathons, Zoe is your gal because she treasures quietly hanging out with her family.  When she isn't on the ping pong court, Zoe is a snuggle bug who has the adorable habit of crawling into the crook of your arm, sitting in your lap or sharing your pillow.
We think Zoe would be happy in a home with another cat companion (she's the happy "little sister" to another cat in her current foster home)  and maybe some fun kids to follow around the house and join the daily ping pong games.  She loves people of all ages and has been socialized well.  
All this little cutie needs now is a permanent home where she can put down roots and snuggle into someone's arm for good.  Are you able to make Zoe a part of your family?  If you think you can provide the affectionate and playful Zoe with a loving forever home, apply to adopt her through Dallas Pets Alive! Her adoption fee is 50% off through the end of May so apply today!