RAFIKI, the prophetic character from The Lion King movie who heals wounds and gives sage advice to adventurous cats, might look at his DPA namesake and smile knowingly.  He would certainly want to find this kitten a home where he could grow into his destiny. While it's clear to us at DPA that our young Domestic Shorthair/Red Tabby Mix has come through some heroic battles, as we look into the future, we see a loving permanent home for a very cute kitty!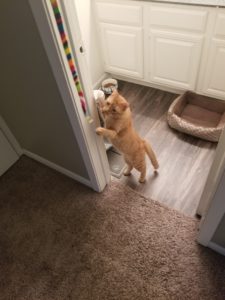 Meet RAFIKI, our May 2108 Cat of the Month!  A feral kitten who survived life-threatening health issues, he is described as being very social with other animals, a vocalizer who isn't shy about meowing until he gets some loving touch and chock-full of playful energy.  If you can spend some timing providing belly rubs and standing watch over some kitten antics (that 8-hour stay in the air vent was just a blip on the radar screen) you may want to apply to be RAFIKI's guardian and friend.
RAFIKI is box-trained, gentle (no hissing, biting or scratching) and is an easy-going sort about his cat food.  He will be eager to jump onto the sofa or bed with you and follow you around the house for some much-deserved affection.  Because he had a rough start in life, he would do well in a patient, quiet, adult household with people who have a lot of love to share. It might take a little time for him to warm up to you, but he will be a loyal companion once he does. We predict he would be a wonderful addition to your life.  
If you are interested in adopting RAFIKI, apply today! Now through May 31 his adoption fee is 50% off.