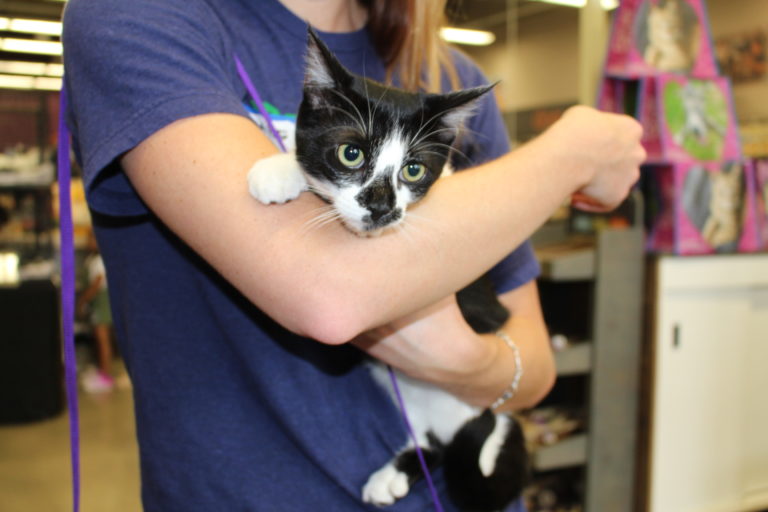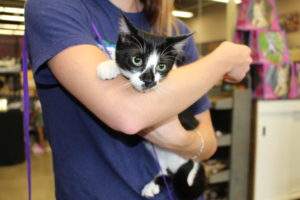 Paula PiCATso is a six-month old, female Domestic Short Hair/Mixed who was named after the famous cubist painter, Pablo Picasso. Her interesting black and white geometric markings are reminiscent of geometric, abstract shapes that Picasso was so famous for.
This little feline work of art is described as sweet, soft, cuddly and playful. She's also a quick learner and loves to bond with people and other cats. In addition to being affectionate, it seems that this cool cat is creatively entertaining! No "still life" for Paula! When the creative muse strikes, she loves to run around the house and chase her tail in the bathtub (politely waiting until your shower is over) or chase a laser pointer. Well, artists can be a bit eccentric!
Paula has given up meowing for squeaking–seems to be some new form of feline self-expression unique to her–and makes up for the lack of vocalizing with the loudest purr you've ever heard. Yes, we think Paula could win a purring contest paws down!
Paula will need some serious play time and would do well with another imaginative cat or dog who is creative in the use of toys. She appreciates time with her human family, as well. Whatever she is doing, she's a loving cat who makes a great companion. Could you be the right fit for Paula? Apply to adopt her today! Now through December 31 her adoption fee is 50% off!