Hike-taking, people-loving, treat-eating, hard-working, tail-wagging fun!  That's what you will be getting if you end up being the fortunate person to adopt this month's dog-of-the-month, Khal Doggo.  Khal Doggo , "Khal" to his friends, has a brown and white coat and a pair of caramel-colored eyes who makes friends easily and is looking for his forever home.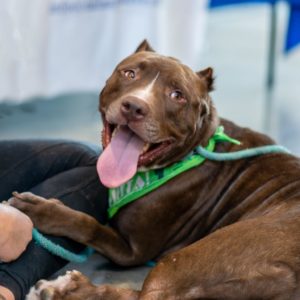 Khal is a dog who's on a journey, any kind of journey actually, because he absolutely loves to take walks and hikes with his people.  If you are looking for a great companion for the trail, this is the dog. Khal's foster says that this pup is also a smart, quick-learner who loves to work for you, especially when treats are involved.  
Khal would be a great addition to a home with or without other dogs.  He will need some time to adjust to other dogs but will do fine when he gets to know them on a walk or hike.  Bring treats.
Are you looking for a strong, handsome dog to share your trail?  If you need some company, you might consider taking Khal along for all the twists and turns ahead.  Apply to adopt KHAL DOGGO today! Through the end of the month his adoption fee is 50% off!