She rules over her kingdom with gentle purring, head bumps and snuggling.  Meet Princess Grace! This royal kitty is a female Domestic Short Hair/Mixed with Silver Tabby markings and pretty light green eyes who had a rough start in life but is looking for her own forever home.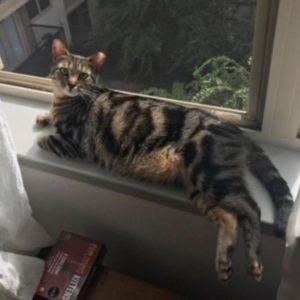 Her castle is filled with toy mice, mylar balls, a catnip banana, a red laser pointer and loyal subjects who scratch her head and ears and play sheet monsters.  When she isn't napping in sunbeams, she is following you around the house, bringing you one of her toys or playing fetch. Ah, life as a princess!
Princess Grace is box-trained, gets along with other cats and loves people.  A blue cat cube is her favorite personal castle and will go with her to her new forever home.  Can you make this special monarch a part of your own kingdom? If you think she might make your world a royal experience, apply to adopt her today! Through the end of the month her adoption fee is 50% off!