by guest blogger Kelsey Nichols
Buffy used to be a DPA foster dog, until she was adopted into a family. Now she has a furry sister, Rose, and tons of toys, fun at the dog park and love. It's been nine months since Buffy was adopted, and she spent her Fourth of July weekend celebrating her FIRST birthday!
This lucky girl woke up to plenty of toys and homemade pupcakes on her big day. Her family even sent DPA their birthday pupcake recipe.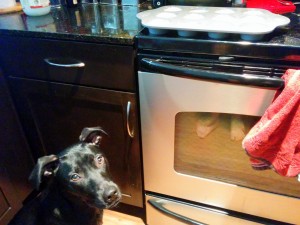 Banana Pupcakes Recipe
2 bananas

2 cups water

1 egg + 1 egg white, beaten

2 tablespoons organic peanut butter

3 cups gluten free organic oat flour

2 tablespoons oats (optional)
Peanut Butter Banana Pup Frosting
1 banana

1 cup organic peanut butter
Preheat oven to 350 degrees.
Prepare cupcake tin with organic, extra virgin coconut oil spray, so pupcakes don't stick.
Mash bananas with a fork in a large bowl until creamy with only a few lumps remaining. Add water, eggs and peanut butter. Mix until well combined. Add in the oat flour.
Pour batter into the pan until 3/4 of the way full. (They don't rise very much, so you can fill them up more, depending on preference).
Sprinkle each pupcake with a few oats, then bake for 25-30 minutes, rotating midway through.
Let them cool for at least 30 minutes before frosting.
While pupcakes cool, you can make the frosting:
Add banana to medium bowl. Mash until smooth. Add peanut butter and stir until well combined. Transfer frosting into a large sandwich bag and cut a small hole in one corner to frost the pupcakes.
Once your pupcakes are adorable and ready to eat, give them to your favorite furry friends to enjoy!