By a current Dallas Pets Alive foster parent
This week, to celebrate my pup's second birthday, we baked some homemade peanut butter and banana pup biscuits.
I used bunny cookie cutters because, why not? Bunny biscuits are better than regular biscuits. I slightly modified an easy recipe from Whole Food's website, and the treats were a huge success! I used less oats than the recipe called for and skipped on the parsley because my dog has a sensitive stomach.
The birthday girl – Rose – and her new FURever sis – Buffy – loved these cookies. We will be making them again soon. Try my modified recipe below, or use the original recipe found here.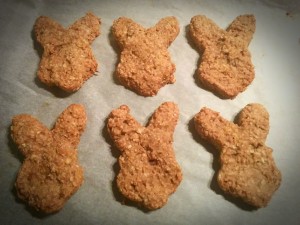 Peanut Butter & Banana Dog Biscuits
1 banana, peeled
1 cup oat flour
1/4 cup rolled oats
3 tablespoons peanut butter
1 egg, beaten
Preheat the oven to 300°F. Put the banana in a large bowl and mash it thoroughly. Add in the oat flour, oats, peanut butter and egg and stir well to combine. Set aside for 5 minutes.
Roll the mixture into balls (pressed flat with the back of a spoon) or use your favorite cookie cutter. Transfer them to a large parchment paper-lined baking sheet to cook the treats.
Bake until firm and deep golden brown on the bottom, 40 to 45 minutes. Set aside to let cool completely.
Makes 15 cut cookies or 24 round cookies.