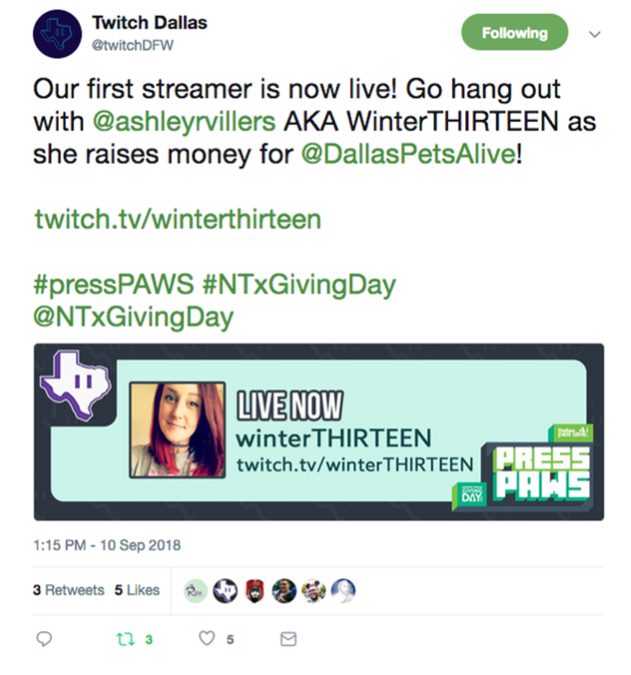 North Texas Giving Day is Dallas Pets Alive's single biggest fundraising event each year. We needed innovative ways to drive donations and engagement in unexpected ways to stand out amongst the crowded marketplace.
Working in partnership with The Marketing Arm, we created and launched PRESS PAWS, a campaign that used a unique mix of social media, influencer marketing, gaming and streaming.
DPA partnered with 10 micro-influencers popular in the DFW gaming community, who hosted a "Gaming & Giving" livestream events on Twitch to benefit DPA. They promoted our North Texas Giving Day efforts, generated donations to the campaign, highlighted specific adoptable pets, and invited fans to meet them at DPA's NTXGD Celebration Event at Community Beer Company.
We also leveraged DPA's social media channels, as well as the streamers' social media following, to generate buzz and excitement. This included targeted social media ads & organic posts, as well as a Facebook Live & Snapchat geofilter at our Community Beer Company NTXGD event.
The Results
DPA was awarded 2nd place in Community Foundation of Texas' Best Integrated Marketing Campaign contest
NTXGD fundraising goal was exceeded by 48%
Total number of NTXGD donors increased 18% from the previous year