While the ultimate measure of our success is the number of animals saved, Dallas Pets Alive! is proud to be recognized for the innovative and creative ways we promote animal rescue and adoption as we work to end pet homelessness in North Texas. Here are highlights of a few of our award-winning campaigns.
CAMPAIGN: SPOTYPLAY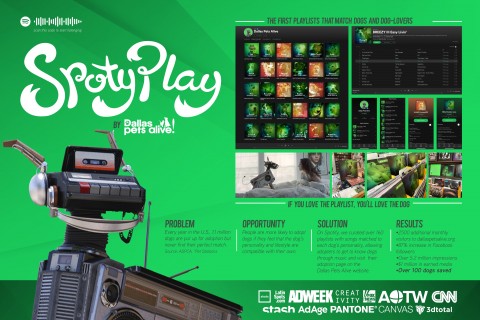 In 2018, DPA and Dallas-based advertising & marketing firm Dieste created SpotyPlay: an adoption campaign to help adopters discover their perfect pet through music. A dog's personality and attitude correlated to countless songs, genres and bands, so Dieste curated Spotify playlists for adoptable dogs based on each dog's personality.
The campaign launched with a video featuring Jam, a "dog" with a cassette-recorder for a head, a boombox body, and headphone ears. He was made up of old-school music paraphernalia to emphasize that older dogs, just like older music, were cool.

Thanks to SpotyPlay, DPA adopted out 114 dogs, with a 69% increase in monthly pet adoptions, and zero returns!

Additionally, Dallas Pets Alive's "SpotyPlay" received the 2019 D CEO Nonprofit and Corporate Citizenship Award for Most Successful Fundraising or Awareness Campaign. According to D Magazine, DPA "really stepped up its game with the Spotify Channel 'SpotyPlay' that featured individualized playlists showcasing each adoptable dog's personality, allowing the organization to reach a national audience."
CAMPAIGN: PRESS PAWS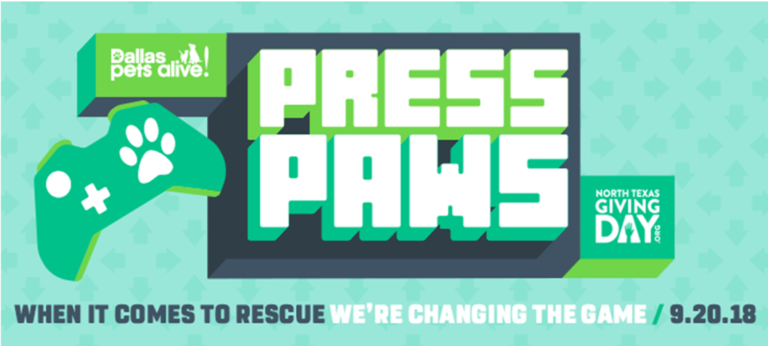 North Texas Giving Day is Dallas Pets Alive's single biggest fundraising event each year. We needed innovative ways to drive donations and engagement in unexpected ways to stand out amongst the crowded marketplace.
Working in partnership with The Marketing Arm, we created and launched PRESS PAWS, a campaign that used a unique mix of social media, influencer marketing, gaming and streaming.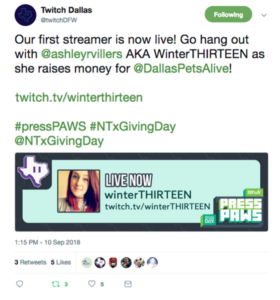 DPA partnered with 10 micro-influencers popular in the DFW gaming community, who hosted a "Gaming & Giving" livestream events on Twitch to benefit DPA. They promoted our North Texas Giving Day efforts, generated donations to the campaign, highlighted specific adoptable pets, and invited fans to meet them at DPA's NTXGD Celebration Event at Community Beer Company.
We also leveraged DPA's social media channels, as well as the streamers'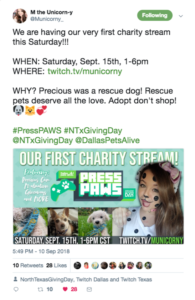 social media following, to generate buzz and excitement. This included targeted social media ads & organic posts, as well as a Facebook Live & Snapchat geofilter at our Community Beer Company NTXGD event.
The Results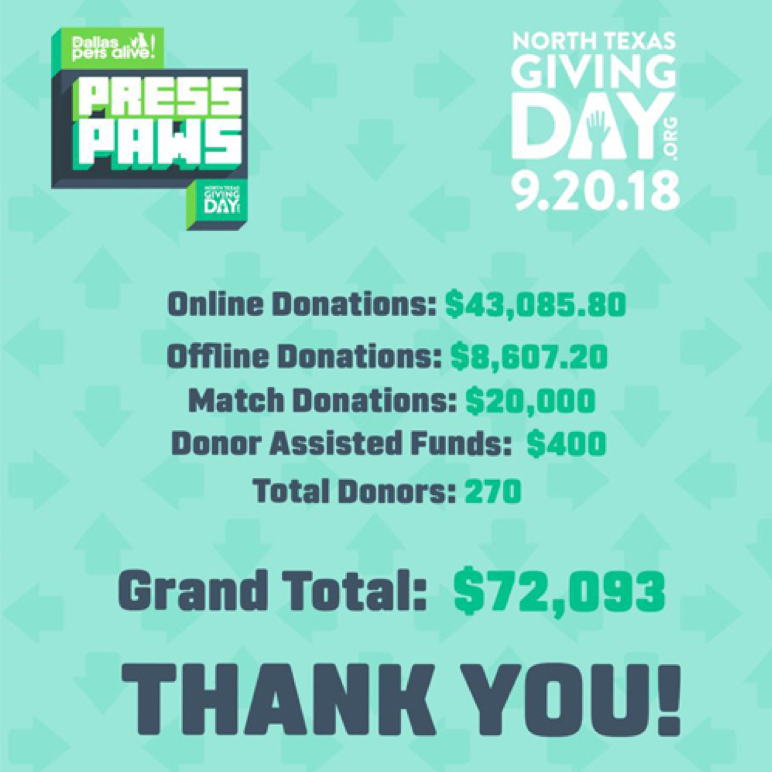 – DPA was awarded 2nd place in Community Foundation of Texas' Best Integrated Marketing Campaign contest
– NTXGD fundraising goal was exceeded by 48%
– Total number of NTXGD donors increased 18% from the previous year
Webby Awards 2015
Social – Nominee
NY Festivals 2015
Public Service Announcement – Finalist Award
Digital – Finalist Award
Direct & Collateral – Finalist Award
Cannes Lions 2014
Mobile – Shortlist
PR – Shortlist
Promo & Activations – Shortlist
El Ojo de Iberoamérica 2014
Best of Show US Hispanic Market
Effectiveness – Bronze
Mobile Advertising – Bronze
Mobile Content – Shortlist
Digital Content – Shortlist
Interactive (Branded Content) – Shortlist
Wave Festival Rio de Janeiro 2014
Cyber – Silver
PR – Bronze
El Sol de Iberoamérica 2014
Mobile – Gold
Branded Content – Silver
PR – Bronze
Integrated – Shortlist
Cyber – Shortlist
IAB Mixx Awards 2014
Social – Gold
FIAP 2014
Creative Effectiveness – Silver
Social Media Campaign – Silver
Cyber – Shortlist
USH Idea Awards 2014
Best of Show
Best Viral Campaign
Best Digital Campaign
ANA Multicultural Awards 2014
Significant Results – Winner
Digital – Winner
CAMPAIGN: ADOPTABLE TRENDS

Cannes Lions
Silver Lion (Media)
Bronze Lion (Cyber)
Shortlist (Branded Entertainment)
Shortlist (Innovation)
Shortlist (Health)
D&AD
Graphite Pencil (Digital Marketing)
Wood Pencil (Direct)
One Show
Silver Pencil (Branded Entertainment)
Silver Pencil (Direct)
Merit (Interactive)
Clio
Bronze (Engagement/Experiential)
Bronze (Direct)
Addys
Best Of (PSA)
Gold (PSA)
Gold (PSA)
Gold (PSA)
Facebook Awards
Winner – North America (Facebook for Good)
Shortlist – Global (Facebook for Good)
iAB Mixx Awards
Gold (Search Marketing)
Bronze (PSA)
El Sol Festival
Silver (Digital)
Silver (Direct)
Shortlist (Film)
Shortlist (Promo)
U.S.H. Idea Awards
Silver (Cyber)
Silver (Promo & Activation)
Shortlist (Branded Entertainment)
Wave Festival
Silver (Promo)
Silver (Branded Content)
Shortlist (Cyber)
New York Festivals
Finalist Award (Digital)
Finalist Award (Digital)
Finalist Award (Media)
Finalist Award (PSA)
El Ojo de Iberoamérica
Finalist (Interactive)
Finalist (Direct)
Finalist (Media)
Finalist (U.S.H. Best Idea)
CAMPAIGN: LONG LIFE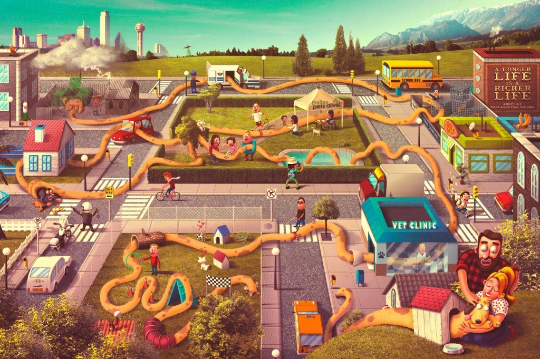 El Ojo de Iberoamérica
Bronze (Radio)
Shortlist (Radio Campaign)
New York Festivals
Finalist Award (Radio)
Finalist Award (Radio)
Radio Mercury Awards
Finalist (PSA)