We here at Dallas Pets Alive! adore all of our partners, from venues to fundraisers to groomers, but sometimes there comes along a partner that deserves a thank you so large we could never truly say it correctly. Dr. Karri McCreary is our first ever PAWsitively PURRfect Partner.
I'll be totally honest, when Dr. Karri approached me about a partnership, I thought she was crazy. Here was this woman asking me to please let her treat extremely medically needy dogs at no expense to Dallas Pets Alive! in exchange for just letting her film them. Um, excuse me? You want to save us money AND allow us to focus on what we love, the urgent, most in need, and overlooked? Ok, I thought, let's give her a shot to save more lives. I want to slap my former self for ever questioning her.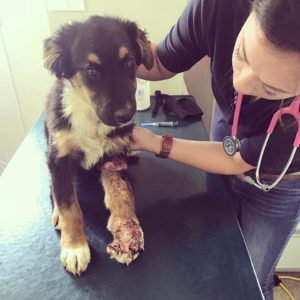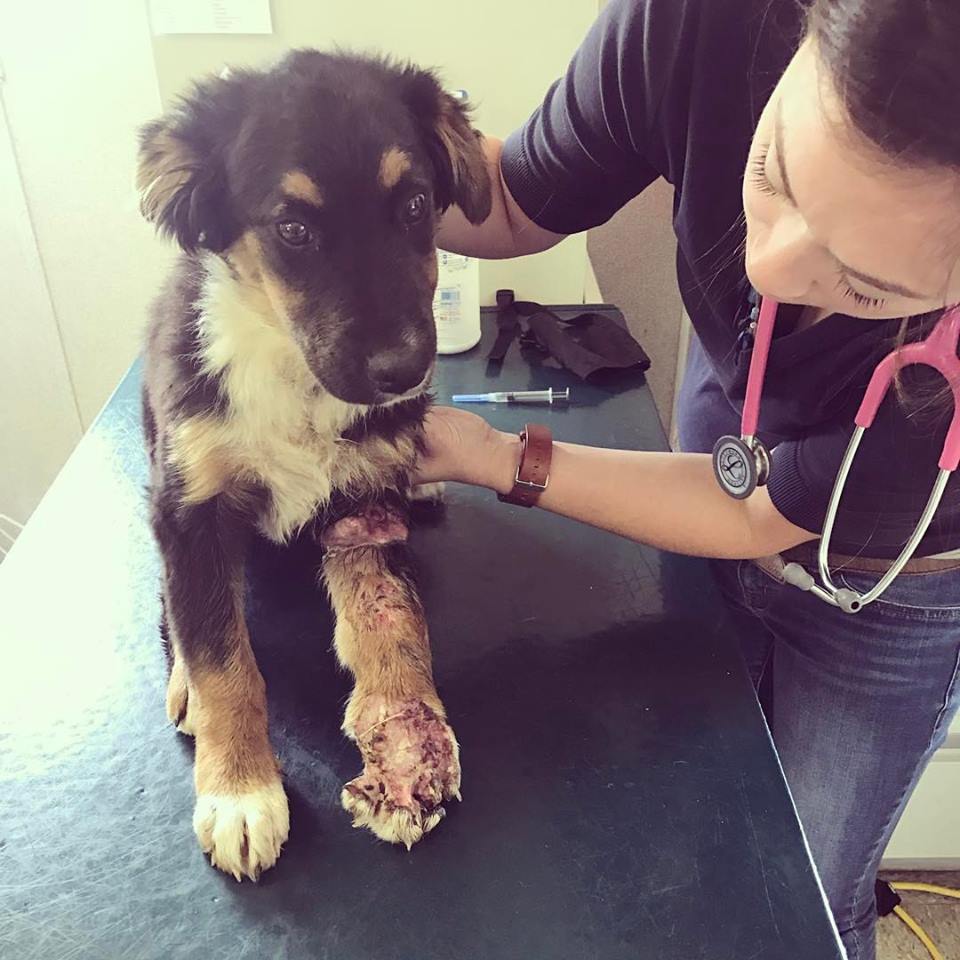 What Dr. Karri wanted to help with was a YouTube channel called Vet Ranch. Vet Ranch is a network of veterinarians that creates videos of animals in need going through the recovery process from severe medical issues. These videos show their physical and emotional recovery from beginning to end and the care Vet Ranch doctors provide is all paid for by Abandoned Pet Project. The videos help to drive donations to Abandoned Pet Project so they can continue supporting the Vet Ranch doctors amazing work. These two groups allow rescues to save more lives that they may otherwise not have been able to afford. To say this partnership has been a lifesaver is both an understatement and a truth.
Since Dr. Karri reached out to DPA!, we have brought in almost 200 animals we otherwise might not have been able to help. To put that into perspective, through our partnership with Vet Ranch and Abandoned Pet Project, Dr. Karri has helped us save more lives than we did in our first two years of operation combined.
Dr. Karri does this exhausting and often underappreciated (not by us!) work on top of operating her private practice veterinary clinic. She personally walks shelters to find animals in need and begs me to let her help them, but she doesn't have to twist my arm too hard. She takes all this on because of her passion for helping the animals that have been done wrong by humans, deserve a second chance, or simply are out of time through no fault of their own. Her dedication and drive to find a way to help save as many as she can is commendable and so essential to combating the homeless animal problems. Her approach is in line with ours of saving the most in need, educating the communities, and showing compassion and assistance to those that need help keeping their pets healthy. This is a positively perfect partnership, but don't take my word for it, our fosters agree!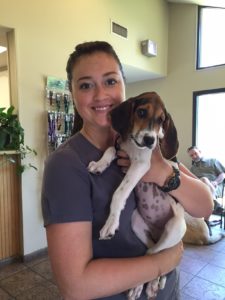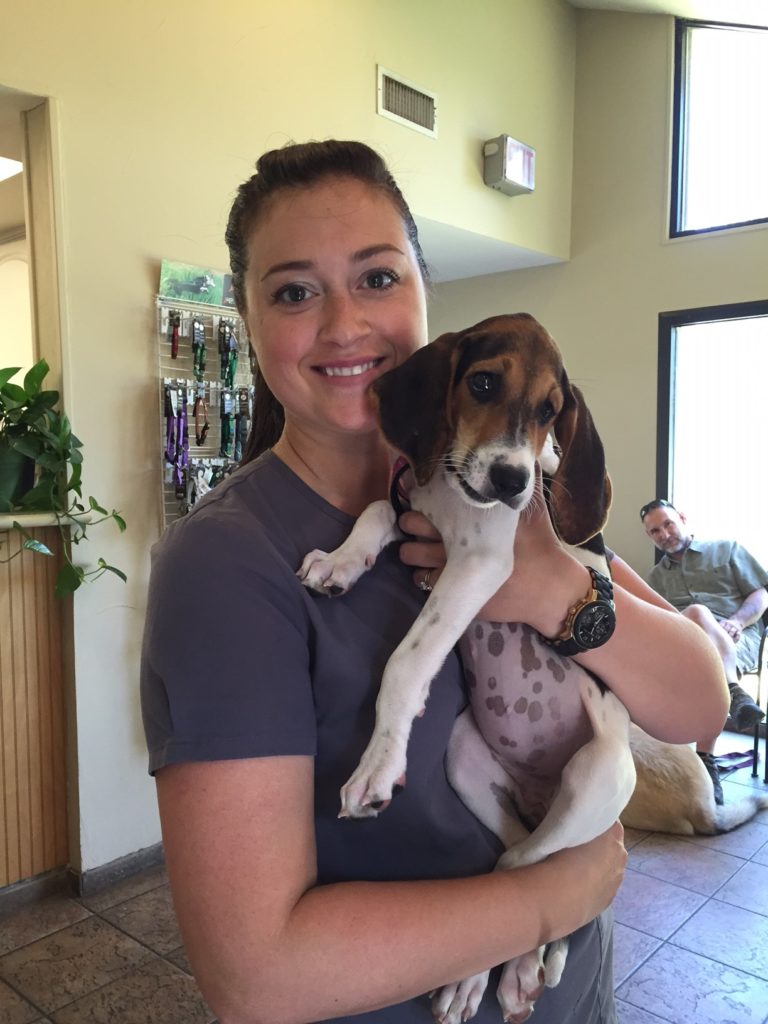 "You know we LOVE Dr. Karri! 
Dr. Karri has beyond gone above and beyond for all the pups she helps, but she went the extra mile for Primrose! Even when Prim was all healed up Dr. Karri still checked her out when we were concerned. We are so thankful for everything she has done for all the fosters." — Natalie 

"Why Dr. Karri ROCKS:

My first encounter with Dr. Karri came when I fostered Buddy, a fluffy Pomeranian who was owner surrendered due to medical costs for eye removal (another dog had ripped it out). Since this was my first medical case foster, I bombarded her with questions which she was always quick to answer. 

Then, I fostered Clementine. This poor girl needed an orthopedic surgeon to rebuild her pelvis and back legs since they had healed incorrectly from being hit by a car. I spoke with Dr. Karri about a hundred times in the few months she was with us. She, DPA, and Mazie's Mission worked extremely hard to find a surgeon that was affordable and would do the surgery without amputating her leg. Clem had her first surgery and was able to hop around to go outside, but you could tell the other leg was in bad shape. Finally, she was able to get the second surgery (and not amputate!) and you could see her getting stronger every day. Dr. Karri was kind enough to take Clem in when I was going to have my baby, and even took her in early when I unexpectedly went into labor. 

Without Dr. Karri and the amazing work she does for DPA, I am certain we wouldn't be able to save some of our medical case fosters. These are just two of the dogs who are alive and in wonderful homes today thanks to her!" — Christine 

"Dr. Karri helped our little girl Nola aka Aibi. She was a very scared badly injured girl when we first met her. She has blossomed and slowly has become more trusting of people. Thanks to Dr. Karri!" — Amanda 

"Dr. Karri,

When we first met you, we brought you a pit bull that was so beaten down and covered with mange and injuries, we did not even know what color she was. With your treatment, she blossomed into one of the most beautiful dogs we have ever seen…within a matter of weeks. Marjorie knew you were something special and that is when we realized it, too. The picture below of my husband with Large Marge is significant – before we met her, he had never been around a pit bull and was quite afraid of them. Her transformation changed his world of thinking and Michael and Marjorie were inseparable. You helped make that happen.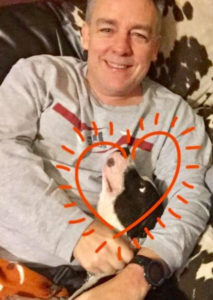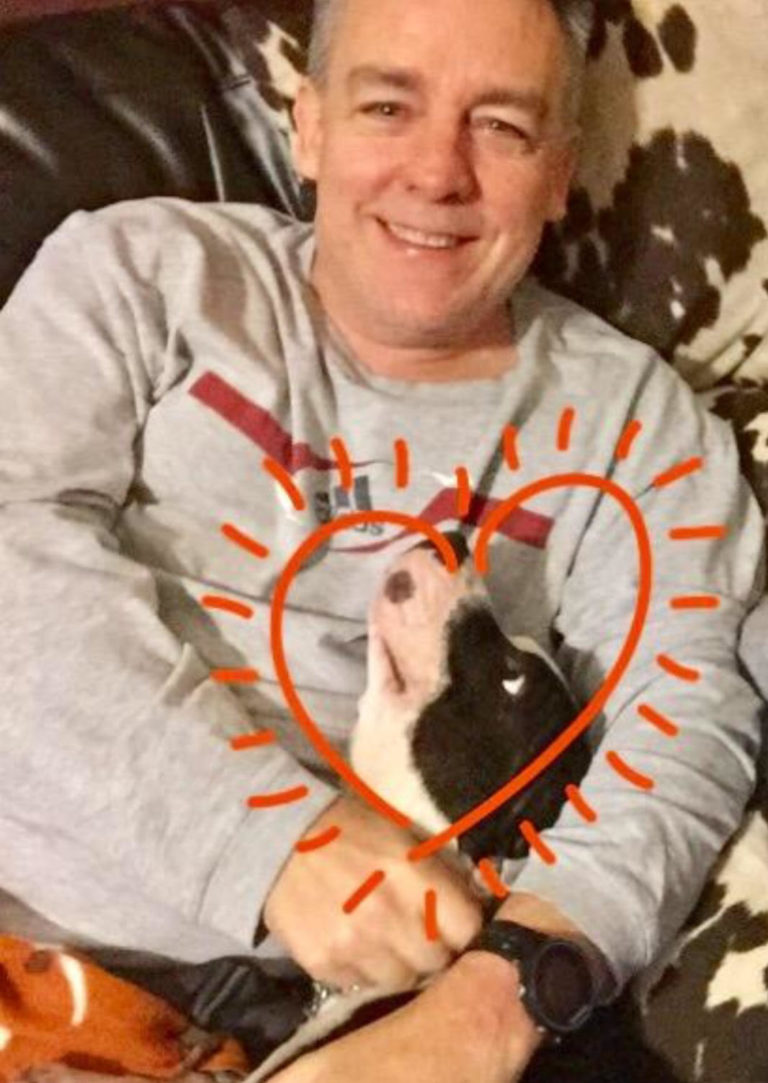 When I came to you with Bixie, it was against protocol, an emotional ambush and could have really ticked a lot of people off.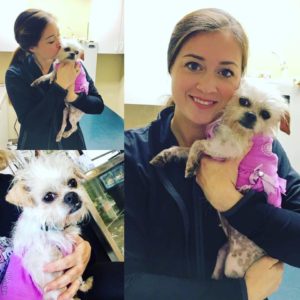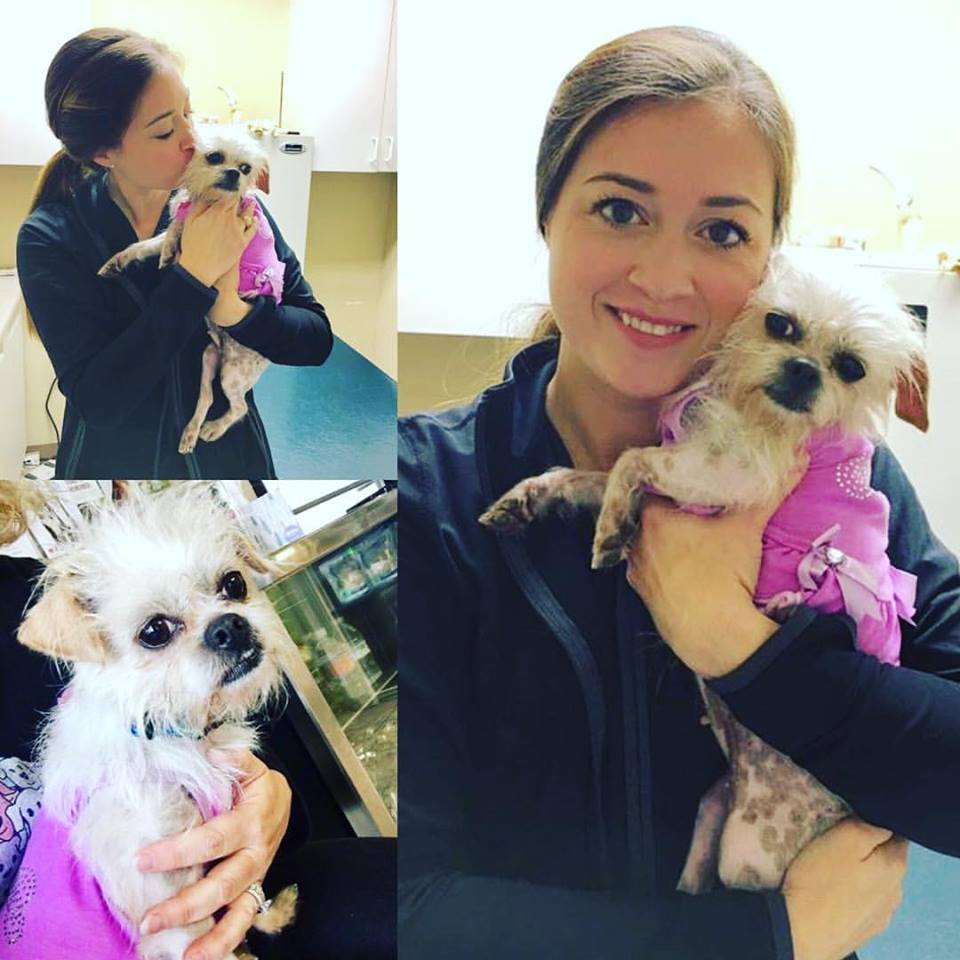 But you did NOT even hesitate to say YES to help this poor little tiny, dirty, extremely injured hot mess. She required a very delicate and expensive surgery and you (and Vet Ranch) performed the procedure that saved Bixie's life. Had you said no, Bixie was hours away from being euthanized, as there was nothing DAS could do for her. Now, she is living the life most HUMANS dream of, and just returned from a beachfront condo vacation in Florida. YOU made that happen for her.

Dr. Karri, not only have you transformed the lives of countless animals that never would have had another chance at life without you, but you have transformed OUR lives with your absolutely selfless attitude, generosity and kindness. You set the example for how all of us should be, and I know that my husband and I strive to follow that lead, every day. Saying thank you does not begin to cover how much we appreciate you and Vet Ranch, and everything that you and your colleagues do – for us, for DPA and for all the animals that come into your care. But THANK YOU from the bottom of our hearts for being the ray of light in this crazy world!" — Jey 

"Leaving your foster right after he is picked up from the shelter might be one of the worst feelings. Wait, I just got him and now I have to leave him? We feel terrible, like they will feel abandoned all over again. But when you take your baby to Dr. Karri, all you feel is peace. There is something about the work she does and the love she gives these animals that doesn't give you any doubts to leave them in her care. If Dr. Karri can't fix it, it isn't fixable. Wyatt had his eye and some teeth removed, and about a week later came down with pneumonia and wasn't eating or drinking. We didn't think he was going to make it. But if he had any chance of pulling through it would be with Dr. K. Wyatt did more than just pull through, he is now living with his mama who foster failed, and making people smile every day. When Wyatt was referred to a specialist this year, we took him straight to Dr. Karri. Like always, her love and compassion were great, and she assured us that Wyatt would be just fine. Her selfless nature is what never ceases to amaze me. (She knows what I'm talking about!) Dr. Karri you are a blessing to DPA and animal rescues everywhere. Thank you for being Wyatt's superhero." — Taylor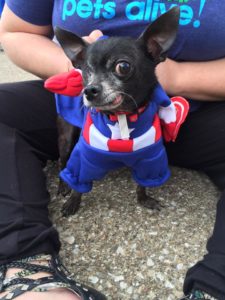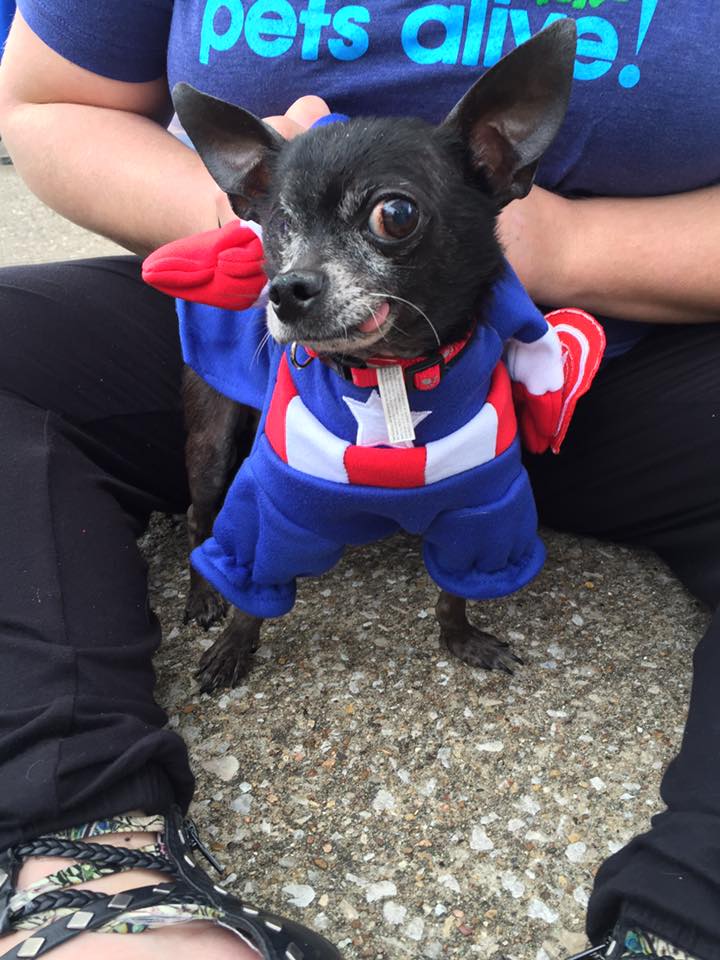 "Dr. Karri, 

I just wanted to thank you so much for all the support you have provided to my DPA fosters! My very first foster through DPA (Winnie) had an eye issue and needed your help; you all took care of her, checked her eye, and made sure she was healthy and ready to be adopted! I loved the Vet Ranch video with sweet Winnie and go back to check it out from time to time! 

I also am so appreciative of all the help and support you provided to Olive. Poor little one! She came in with a fractured leg and we went through everything – extended crate rest, cone of shame….more crate rest! She was such an energetic girl and making it through that injury and being healed was quite a journey. Finally, her leg healed and she flew out on a transport to Toronto (p.s. now she lives the high life with a Canadian lifestyle blogger…..you can check out the blog here – it contains lots of Olive posts: http://graciecarroll.com/)

Personally, I also wanted to thank you for your staff going out of their way to help me with transport and pick up. They have stayed late to meet me (on my drives out from Dallas!) and generally been so kind. 

The work that you do through Vet Ranch is truly tremendous. I have adopted out to families who LOVE your videos and seek out DPA dogs so they can connect with Vet Ranch pups – I think that's so awesome. The fact that you can heal our fosters and help them get into good homes is so wonderful. 

I'm so happy you are being given this award. Your work to help animals most in need is truly to be commended. THANKS for all you do, Dr. Karri!" — Norma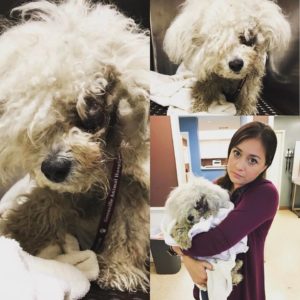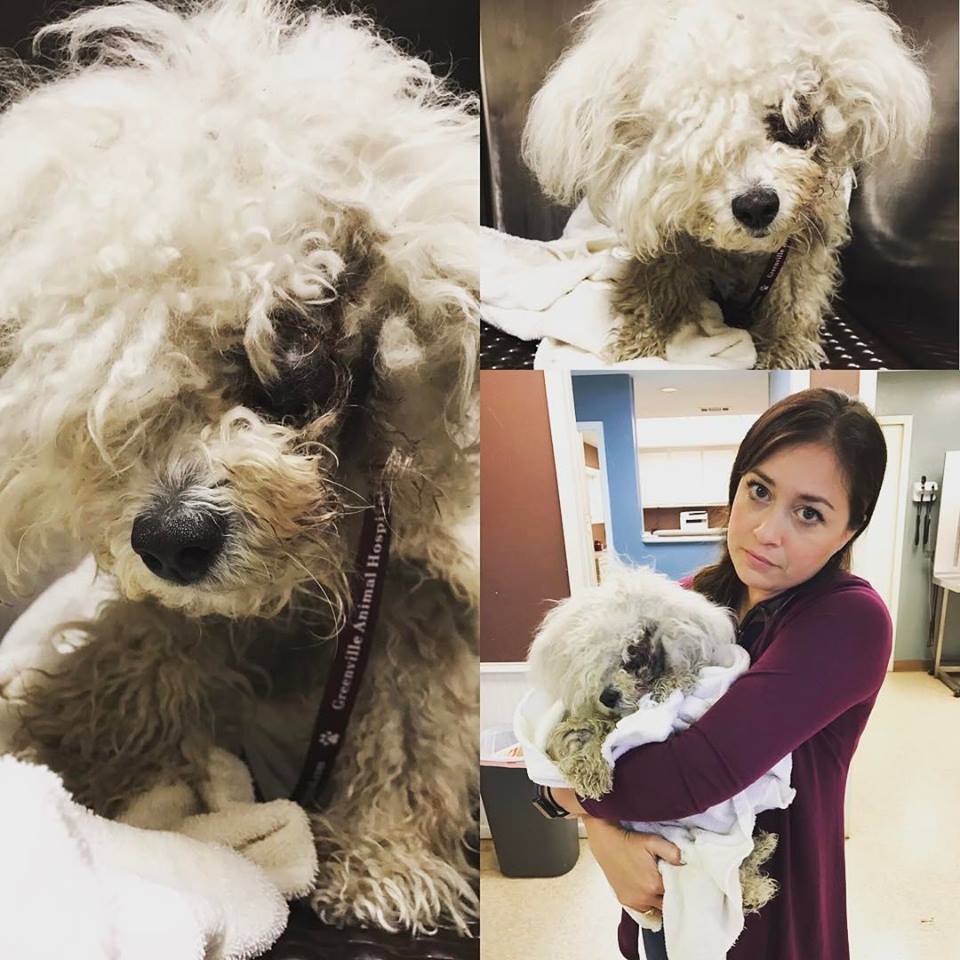 "Dr. Karri and her team are amazing, and I am grateful for all they do.  I do not remember the first animal I transported to Greenville, and you would think I would remember everything about that trek.  The dog was medium-sized, kind of fluffy, and I think female…?  It was all new to me, and I had no idea at the time how vital this organization out in Greenville, Texas, is to healing the lost and forgotten pets of north Texas.
In September of 2016, my husband was on his way to work and encountered a matted and bloody cat sitting in the middle of the on ramp to 360.  He rushed home and told me, "There's a bleeding cat in our garage!" before rushing off to his meeting.  I was able to get him to a local vet but having never been in this situation, I knew I would need assistance, as our home was not able to take in a cat.  The first vet confirmed he had been attacked, and a serious laceration on his head resulted in a decent amount of blood in his eye socket.  A panicked email to our VP of Animal Operations and TNR Director resulted in Dr. Karri stepping in to offer a place for this fragile feline.  I rushed him to Greenville, and not only did her team immediately alleviate his pain, but Dr. Karri was able to save his eye.  He is now a happy kitty living in Waxahachie and has playmates.
In February 2017, DAS had a severely injured APBT mix in need of transport.  It was dicey timing but I was able to get to him before they closed and rush him out to Greenville.  Friday night, lots of traffic, and we got there about 19:30 or 20:00.  Dr. Karri's staff was ready and welcoming.  They rushed to action, and we found out later that this little guy was minutes away from not making it.  After a few months of recovery in his fosters' loving home, he found his forever home last week.
There are hundreds if not thousands of these stories for Dr. Karri and her team.  I could never thank them enough for all they do.  When I am exposed to sorry acts by some in this world, remembering people like her and her staff helps me to keep my chin up.  Thanks Vet Ranch!!" — Dena F. 
So here's to you, Dr. Karri! Your kindness towards others, compassion for animals and unrivaled skill at saving lives does not go unnoticed. We love and thank you for all you do for Dallas Pets Alive!, our community and for the greater good of the world.