May 4, 2o18
Dear DPA foster friends,
I know it's raining today, and that's kind of lame, but I have some good news! My friends at Preston Road Animal Hospital said I could come in for a free re-check and weight update, so Foster Mom took me this afternoon. Guess what they said? They said that, not only do I not have to be in my crate so much anymore, but I'm finally at a healthy weight, and I'm clear to start coming off my anti-anxiety meds! My allergy problems have cleared up, too!
I'M FINALLY HEALTHY!!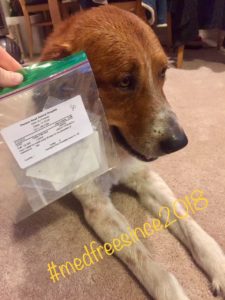 #posttreatmentfeels
Thanks so much for paying for my treatment and finding me a Foster Mom. I can't wait to attend adoption events so EVERYONE can fall in love with me, not just the nice folks inside our apartment complex. (I made friends with landscaping, though. They let me see ALL THE PLANTS!)
Here's my latest glamour shot with my nemesis, the vacuum cleaner. I'm so excited about being off crate rest that I let it be in the picture. Plus, Foster Mom says I have to share.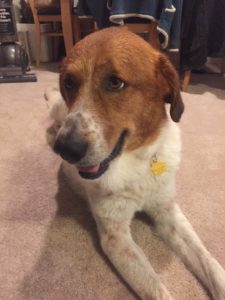 Thanks again. I feel sooooo much better and can't wait to meet you all in person now that I'm worm-free and stuff. Foster Mom says I give GREAT kisses!
Love and treats,
Laz 
️