As the holidays are getting closer, it's important to set yourself up for success while celebrating with your pets. To help avoid costly or frightening accidents, try these ten tips:
Be careful your pets don't get ahold of any snacks outside of their regular diet. Make sure they don't have access to dangerous food like sweets, turkey, yeast dough, and other table scraps including onions, grapes, and fatty foods.
Ornaments, tinsel and other festive tree decorations can be dangerous for pets if ingested. Be sure to keep ornaments and decorations out of reach of all your pets.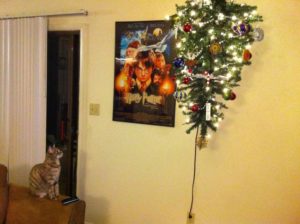 Candles and electric decorations both may entice your pet. Blow out all candles and unplug electric devices when you're not in the room to avoid possible burns and fires.
Keep cocktails out of reach if your celebration includes them. Effects of alcohol on pets can include weakness, illness, and even coma or death.
Watch out for holiday flowers and festive plants. Holly, mistletoe, poinsettias, cedar, and pine can all be poisonous for dogs and cats, among other plants.
Give warning to any potential holiday guests about pets in your home. Guests who may be pregnant, allergic, or have compromised immune systems may need to be aware of your pets before arriving.
If you have long-term guests, ensure they keep any medicines and possibly toxic substances like toiletries out of reach of your pets.
If entertaining, make sure your pets have a comfortable, quiet place of their own to retreat to away to if they need a break from the commotion. This is especially important for shy pets, but even outgoing pets can become overwhelmed with all the holiday activity going on.
Whether you're traveling by air or road, prepare ahead if you plan to bring your pet. Learn the requirements for any state you may visit in regards to required health paperwork. Make sure your pet is up-to-date on vaccines before traveling.
As you ring in the New Year, keep in mind that noisy fireworks and poppers can terrify your pets and damage their ears. Be sure to secure your pets in a safe (preferably quiet) room as midnight approaches.
Even when following all of these tips, accidents can happen. Quick action in certain situations can save lives. If you believe your pet has been poisoned or eaten something it shouldn't have, call your veterinarian or local veterinary emergency clinic immediately. You may also want to call the ASPCA Poison Control Hotline: 1-888-426-4435. Signs of pet distress include sudden changes in behavior, depression, pain, vomiting, or diarrhea.
With these tips in mind, we wish you a safe and happy holiday for all the loved ones in your lives (both 2 and 4 legged).
Sources:
–American Veterinary Medical Foundation
–American Society for the Prevention of Cruelty of Animals (ASPCA)