Our 4th Annual Pup Crawl is DOG-FRIENDLY!
Bring your human AND your furry best friend for a five-stop tour of flavors from Community Beer Company at Deep Ellum venues with relaxing patios. Your ticket price includes a Pup Crawl souvenir pint glass & a generous pint at every stop:
-Cold Beer Company
-Off the Record
-Twilite Lounge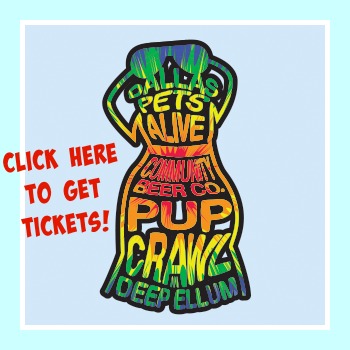 -Anvil Pub, Deep Ellum
-Braindead Brewing
Want to crawl with a group? Email info@dallaspetsalive.org with a list of teammates so we can get you in the same "dog pack." Limit 5 per team.
Check-in & wristbands starts at 11:30 am-12:45 pm at Cold Beer Company, 3600 Main Street.
Be sure to come early to enjoy your pint at Cold Beer Co. before the crawl starts at 1:00 p.m. CBC will be grilling their famous hot dogs for us to fill up on before the crawl — $5.50 for a plain dog and $6.50 for a special dog.
Every cent raised goes to rescue, rehabilitate and rehome a homeless pet in our community. Help us save lives & have fun, too! ♥
–We crawl rain or shine! No refunds.–
***Space is VERY limited for dogs, please consider this before you bring yours. Pets are only allowed on the porches of our participating bars. All dogs must be current on their vaccinations and must get along with other dogs and humans.***
The Pup Crawl is a community event that encourages responsible drinking by participants. When taking part in any events that involve drinking, always keep safety first.
Don't DRINK and DRIVE, and assign a designated driver at the beginning of the event, call an Uber or use public transportation.