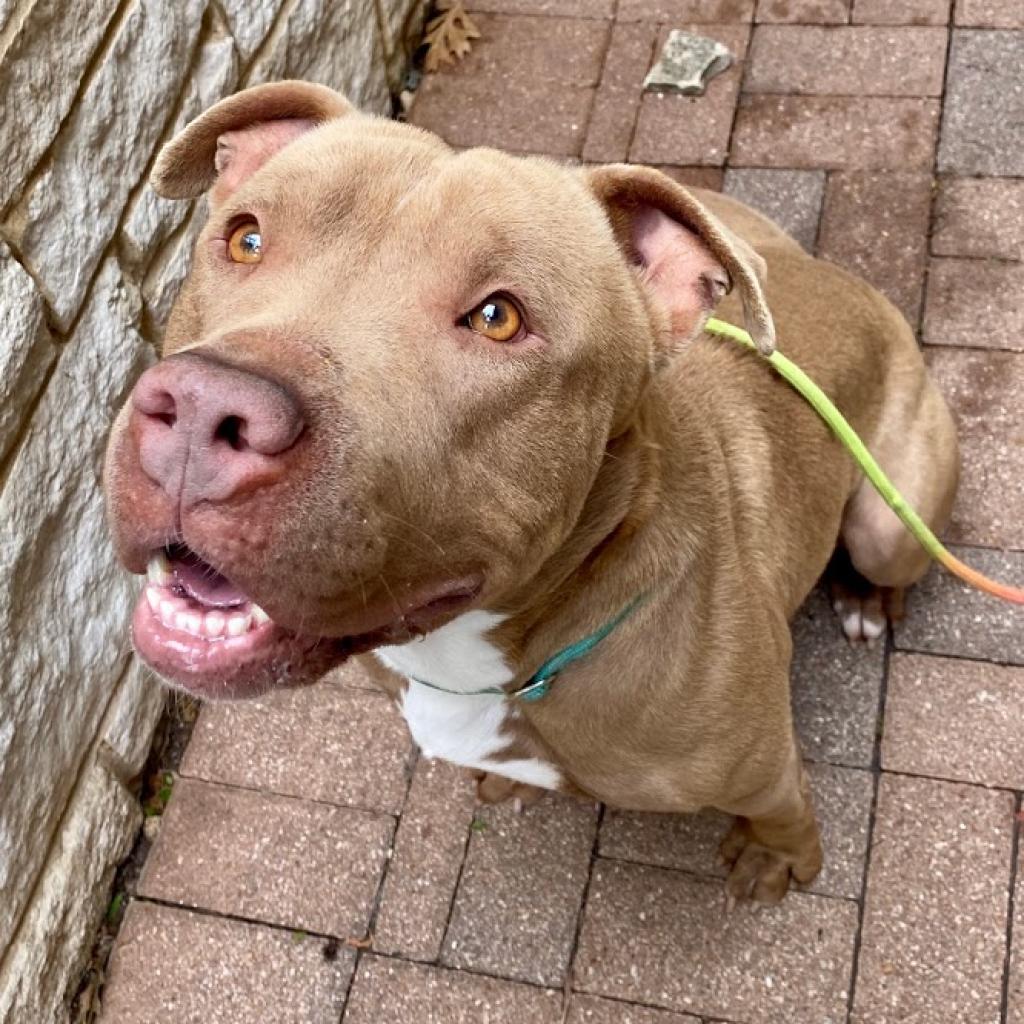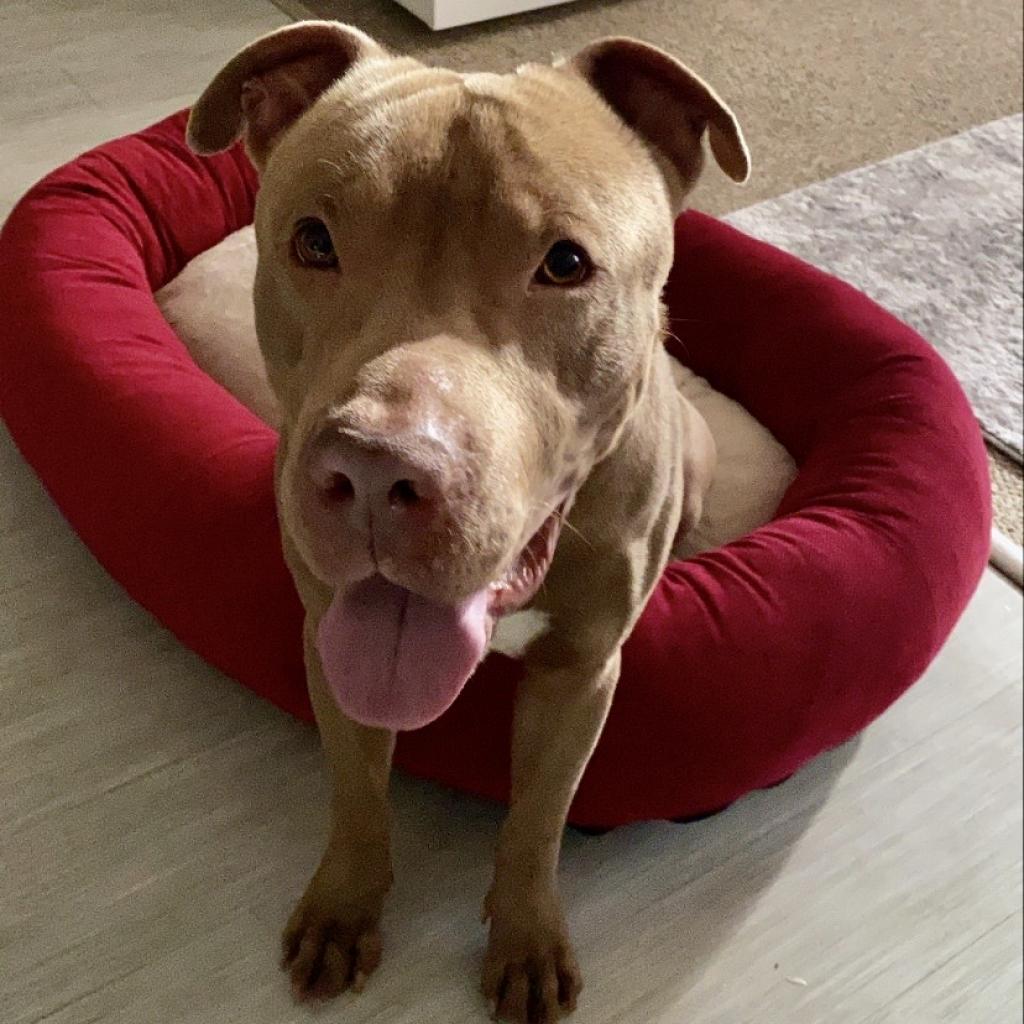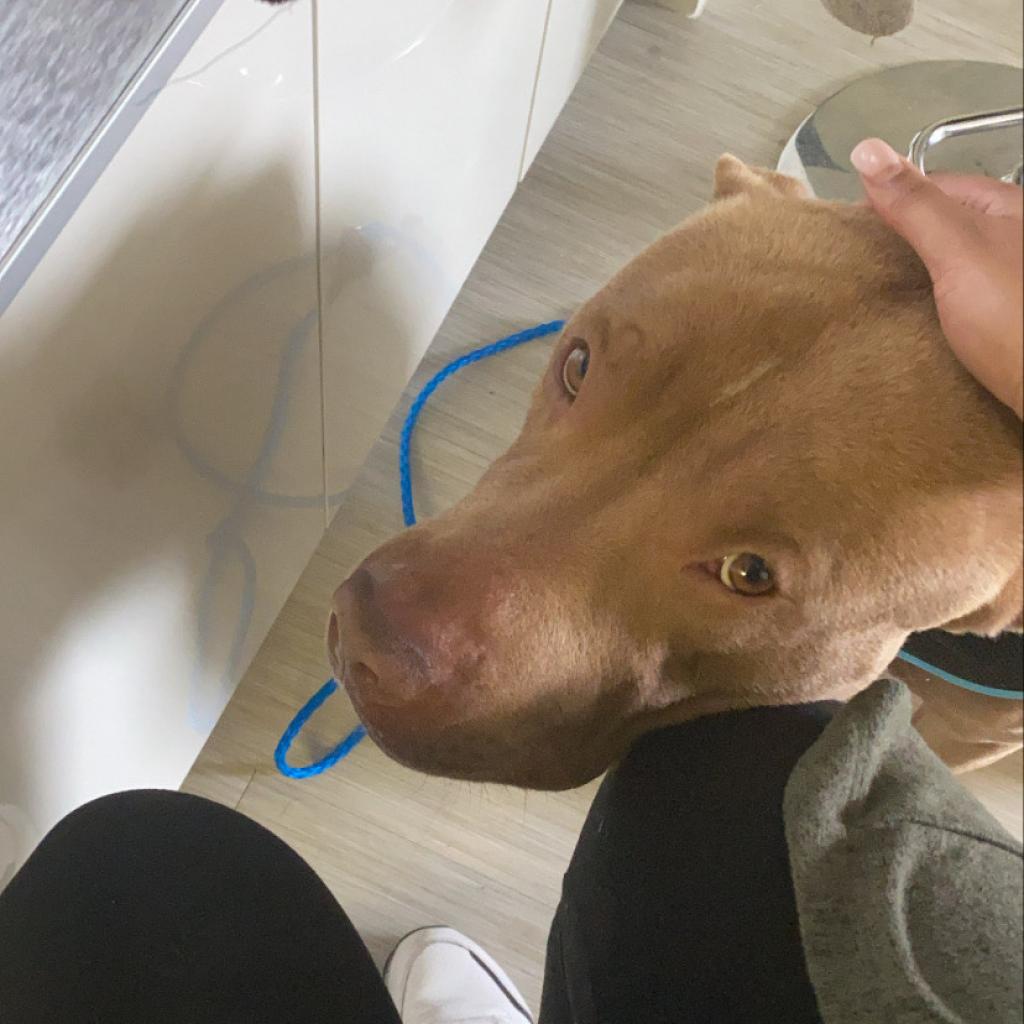 Haze

ID: DPA-A-4758
Age: Adult
Sex: Male
Breed(s): Terrier, Pit Bull
Size: Large

Apply to Adopt Haze
Meet Haze!

Haze loves humans: the ear scratches, the tummy tickles, the head rubs, giving them kisses, just being with them. Toys hold no interest for him; he only has eyes for his person. When he does play her prefers short games of chase- about 20 to 30 minutes- and then wants to go back home to cuddle or nap. When Haze is napping he usually dreaming of his furever home...it usually includes no other pets (he's what us humans would describe as a "people person"), and an owner that's ready for a new best friend.
Haze is gentle and eager to please. He already gives paws, works well on a leash, and sits. He is still learning not to jump on people to express his excitement. He gets upset when it is time to go into his crate and may whimper, but only because he wants to be by your side- and this only lasts a few minutes before he is a asleep and dreaming of his next dose of human interaction. (Be sure to watch him when he sleeps on his back and kicks his feet in the air!) The best part about Haze--he doesn't even bark!
He is also good with children. He has not been tested around cats yet. He would be best as the only dog in the home. Haze can be trusted at home alone outside of his crate- he's so well behaved! He would do well in any kind of home situation- single person, family, house, or apartment- as long as he has a human! If you are looking for unconditional love, look no further than Haze.
This pet is available for pre-adoption and may not be officially ready for adoption, as it is still undergoing medical treatment. Depending on the medical status, a Meet and Greet may be put on hold until they can safely participate in a meeting with potential adopters. In some cases, this pet may be able to move to its forever home while it is still under the medical care of Dallas Pets Alive. If you are interested in learning more, apply now and one of our Adoption Counselors will discuss the options available so you can bring home your new furry family member! Applications are processed in the order in which they are received; please be aware that this pet may have interested applicants ahead of you. All Dallas Pets Alive adoptable pets are spayed or neutered, microchipped, and up to date on vaccines upon adoption. The standard minimum donation for dogs over six months to seven years is $200, puppies under six months is $250, dogs eight years and over are $100 unless specified otherwise. You can view all the adoptable pets and fill out an adoption application online on our website at http://dallaspetsalive.org/adopt/adoptable-dogs/ . For more information, you can email adopt@dallaspetsalive.org.