"Take a good look around you. Take a good look you're bound to see. That you and me were meant to be for each other…..Martha my dear, you have always been my inspiration." – Sir Paul McCartney, "Martha My Dear"

I bet you didn't know that Paul McCartney was inspired by a four-legged friend. Most people think his song "Martha My Dear" was about a girl, but he wrote the song about his beautiful sheepdog, Martha. The love she gave inspired him to write a song just for her.
All animal lovers can relate to Paul's love for Martha, that love that can inspire us to do anything…write a song, go out in public or just love a little deeper like our pets love us. There is a spirit of inspiration around Dallas Pets Alive! all the time. I get to witness, with awe, abandoned animals overcome the impossible and the countless hours and dedication our volunteers give to DPA. It's their passion and commitment that inspires me to give more every day – to save more lives.
With tens of thousands of pets arriving annually, Dallas Animal Services relies on Dallas Pets Alive! and others to rescue, rehabilitate and rehome as many pets as we can. Without inspiration, we could not have accomplished so much in only 4 short years.
How does Dallas Pets Alive! inspire change?
Dallas Pets Alive is participating in North Texas Giving Day because we've witnessed the spirit of giving in our city, and we know the power that spirit has on helping the homeless pets of Dallas. We ask that you honor a pet that has inspired your life by giving to Dallas Pets Alive! on North Texas Giving Day this September 22.
Some facts about Dallas Pets Alive!:
DPA is the only North Texas rescue group focused on rescuing solely from our city shelter, Dallas Animal Services, which currently takes in 100 pets per day.
We're completely volunteer-run, not a single dollar spent on salary.
We innovate with fresh perspectives and preventive methods, like Positive Alternatives to Shelter Surrender (PASS) and a Trap-Neuter-Return program for feral cats. Both are initiatives to keep pets from entering the shelter.
We aren't breed or pet specific. To date, we've rescued dogs, cats, chickens and a pig!
Our goal is to one-day make Dallas a no-kill city.
A donation to Dallas Pets Alive during North Texas Giving Day will provide vital vet care, behavior training for those who need it and support our new preventive programs. With your help, we WILL reach our $20,000 fundraising goal on North Texas Giving Day! Follow us on Facebook/Twitter/Instagram, so you can share in the excitement with us!
Bookmark to Give Inspiration to DPA on NTX Giving Day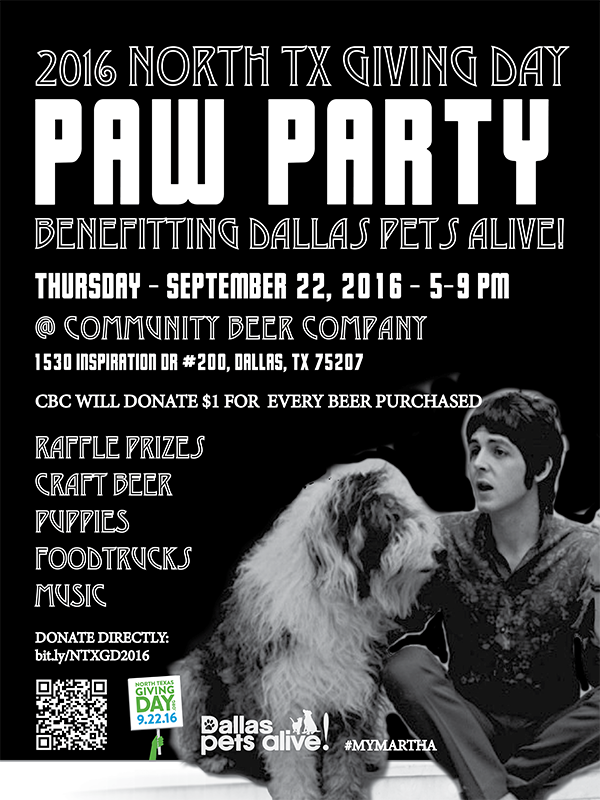 You can also join us for a North Texas Giving Day celebration at Community Beer Company from 5 to 9 pm as we team up with a local business that loves dogs as much as we do. With a specialty beer release, raffle prizes, adoptable pups, food trucks and more! CBC will donate $1 for every beer sold. Make your happy hour count on Sept 22nd!
Paul McCartney said it best in his song Martha My Dear, "Take a good look you're bound to see, that you and me were meant to be for each other." A gift to DPA allows us give "meant to be's" to our homeless pets in Dallas.
Get inspired, give to Dallas Pets Alive!
CLICK HERE TO BOOKMARK AND GIVE ON NTGD
Leslie Sans, Executive Director, Dallas Pets Alive
---