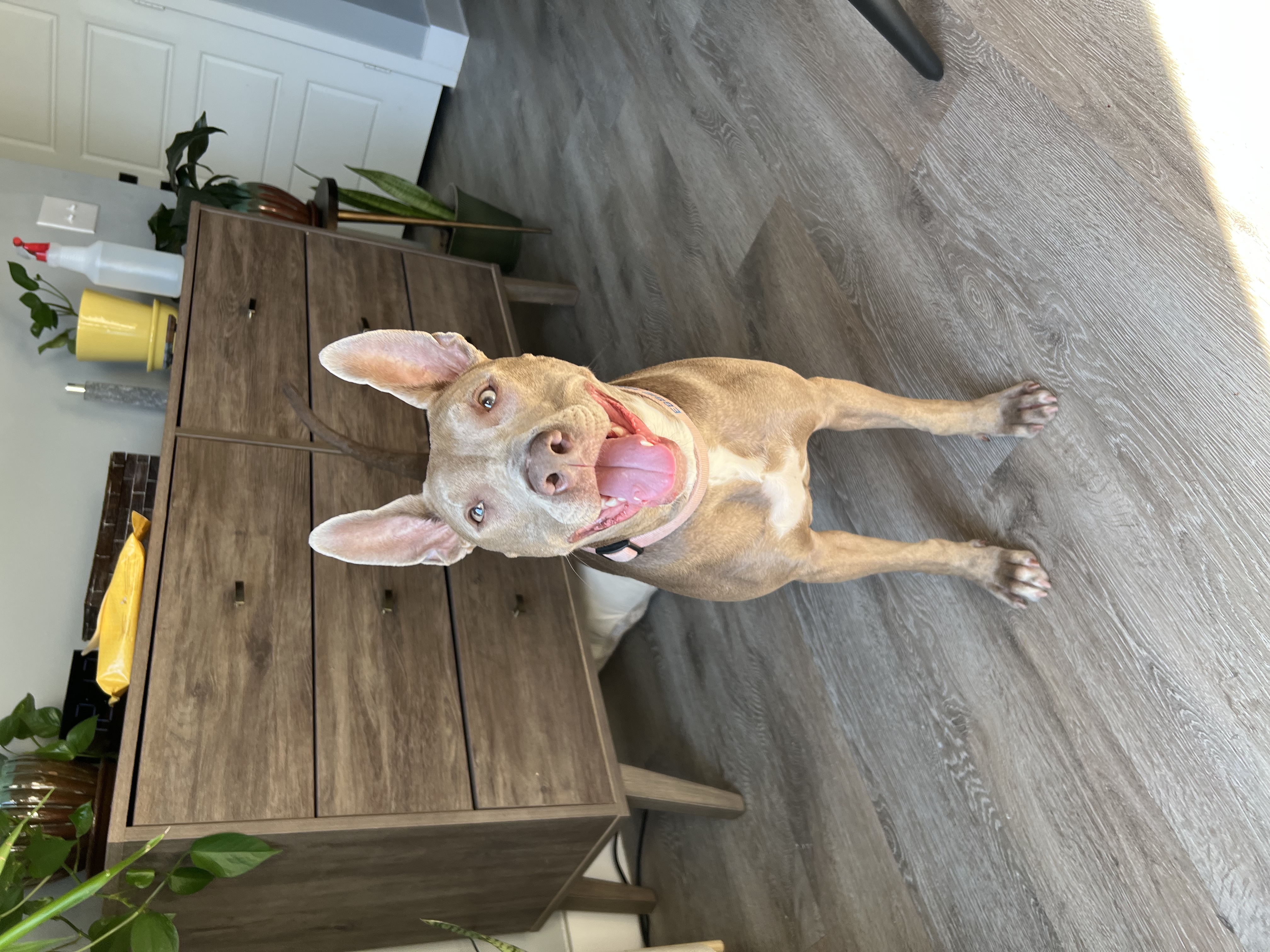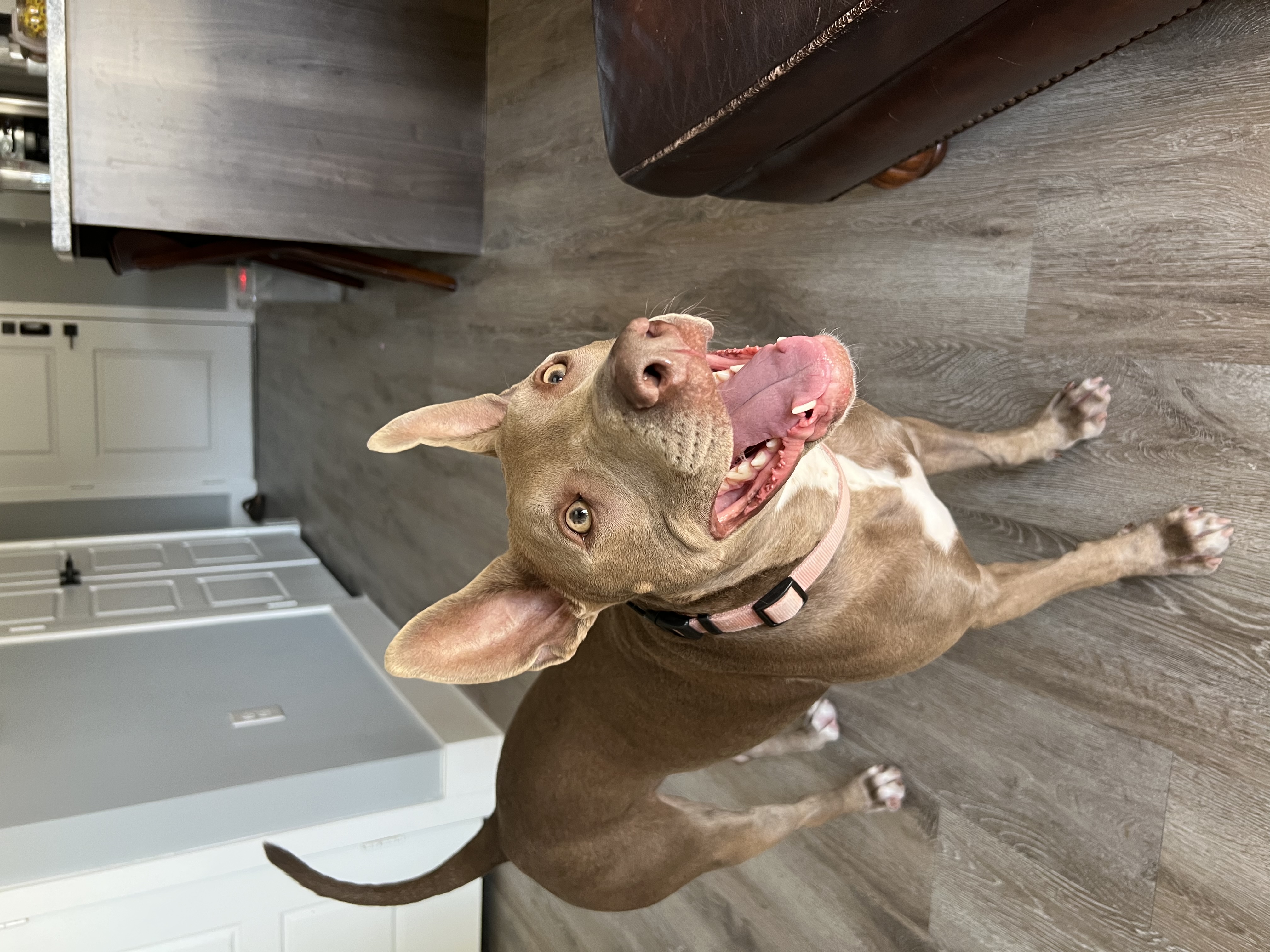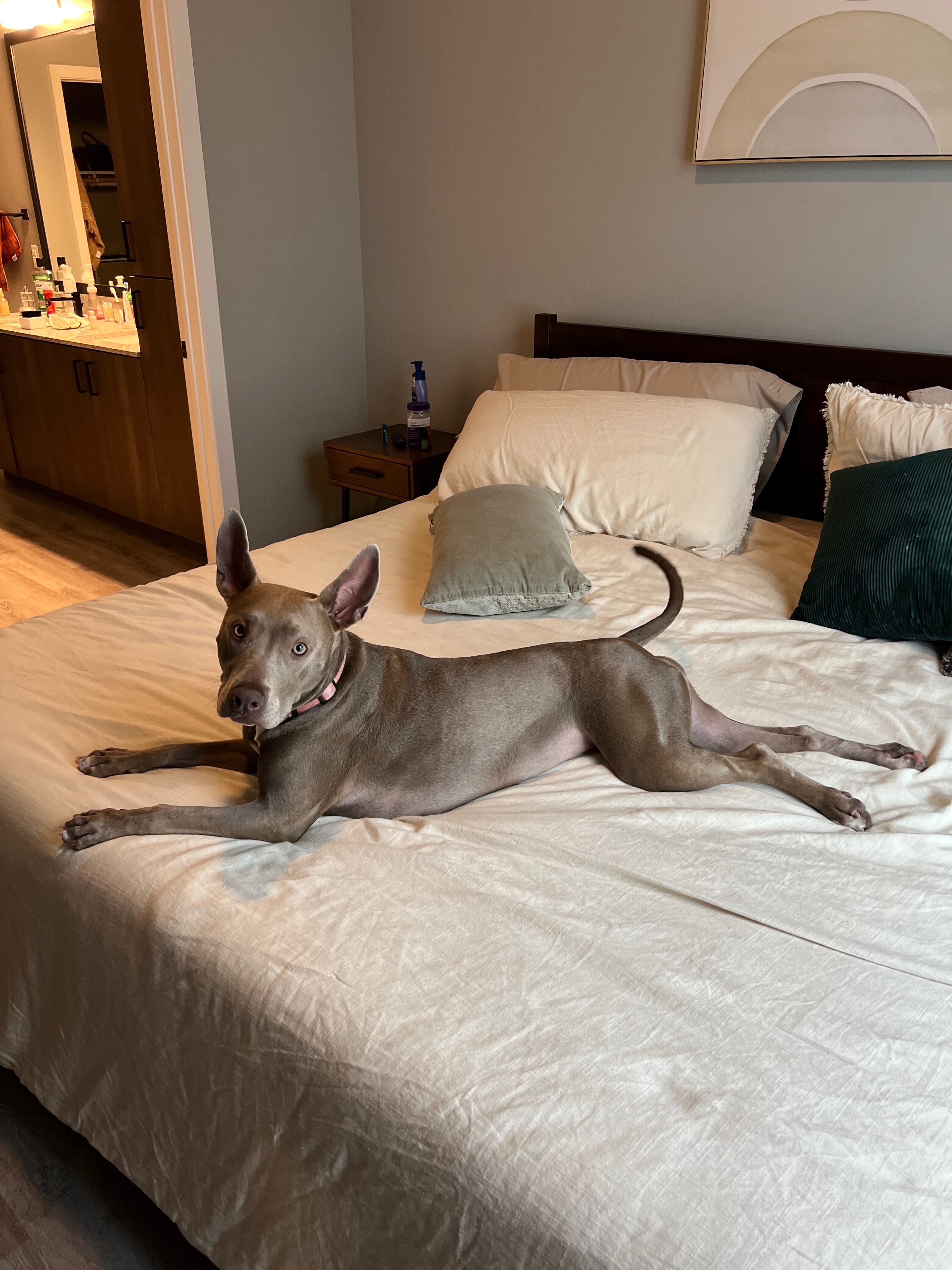 Meet Ebbie (New Digs)!

Hi, my name is Ebbie (pronounced E-B), and I am 2 1/2 years old. Fun fact: I am named after the school where I was found! The Pitbull in me makes me super cuddly and a big baby, but the Blue Heeler keeps me high-energy, funny, and super smart! In fact, in addition to all of my basic commands, I also know: "ball" means to go find a toy so we can play together, "clean" means that it is time for a bath, and "bed" means it's time to go to sleep! These are my favorite words!
I have graduated from behavior training, and when I am properly introduced to a dog, I can play and have so much fun! The same goes for when I am introduced to people! I am so sweet and need a home where I will be loved and given attention.
I would do best with someone who lives in a quiet area because I get overwhelmed by distractions. I need someone who can be patient with me because I am very afraid of other dogs unless I am properly introduced to them. Even though I may act tough sometimes, I am a baby. I have not been introduced to cats or children. I would prefer a big backyard rather than going to a crowded park because I feel very stressed when there is too much going on.
-----------------------------------------------
If you have a specific question about Ebbie, then please email newdigs@dallaspetsalive.org. If you are interested in applying to adopt this pet, fill out the application at the link above.
Ebbie is participating in the Dallas Pets Alive rehoming program. All of the medical, behavioral and other information about this pet was provided by the pet's owner. Dallas Pets Alive encourages all adopters to verify the information prior to adoption. Please note that Dallas Pets Alive (DPA) is acting as intermediary to connect prospective adopters with individuals wanting to rehome their pets. DPA is not liable for any information provided about this pet and the adoption transaction is purely between the pet owners and adopter. DPA is not responsible for any damages, injuries or adoption returns as a result of any adoption transaction. DPA! is not responsible or liable for any animals involved in its New Digs program. DPA! acts solely as a facilitator of adoption between the animal's surrenderer and potential adopter and makes no claims as to the accuracy of the animal's medical or behavioral history provided by the surrenderer.
Apply to Adopt Ebbie (New Digs) Today