News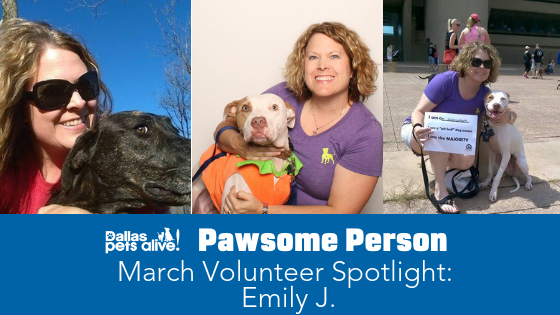 "Emily has been a foster and volunteer with DPA since even before my time. She is a whiz when it comes to numbers and spent a few years managing DPA's accounting before making the switch over to the foster team. This is where I have gotten the chance to really know Emily and learn that her heart is just as large as her brain. She goes above and beyond as a foster representative to make sure our fosters are feeling supported. She has even given up a free Saturday to take her foster's animals to adoption events when they couldn't make it–a couple of those puppies met their FURever families at that event, too!
This sort of above and beyond mentality is something that comes naturally to Emily who is a repeat foster herself. She is superwoman who has done it all! Bully breeds? Absolutely. Medical issues? Not a problem. Pregnant mom and nursing puppies? Bring it on!Emily brings so much value to our team and we are SO fortunate to have her!" -Steiner Steiner, DPA!'s Foster Director
Donate
Help us care for our adoptable pets by providing funds for their care. Below are suggested donation amounts corresponding to specific needs.
$10 – Microchip
$25 – Heartworm test
$50 – Puppy vaccinations
$75 – Spay/neuter one pet
$100 – One day of parvovirus treatment
$300 – Heartworm treatment
$500 – One month of behavioral training
Newsletter
Join our newsletter to receive updates in your inbox.
---
Dallas Pets Alive! is an exempt organization as described in Section 501(c)(3) of the Internal Revenue Code, EIN 46-2768869