News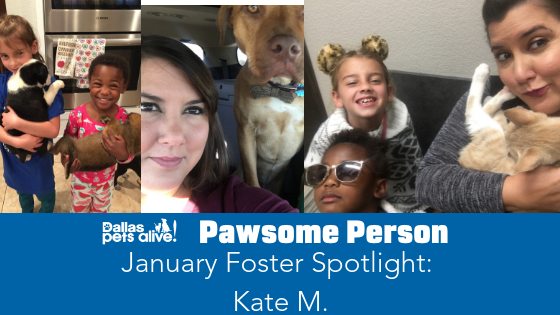 "Kate is an amazing, dedicated and resilient foster for DPA! She's most recently tagged a beautiful litter of kittens – the Graphics Crew – and despite lots of quick adoption interest, she's had to juggle many vet appointments, medication schedules and cleanup to get these babies healthy and ready for their new homes.
On top of that, she and her family agreed to temp foster for Bob Marley – a super sweet darling who needed to have his tail amputated, and then was quickly diagnosed with Panleuk (equivalent of Parvo in pups). He's not out of the woods yet, but she's documenting his treatment and recovery.
Through everything, she has gone above and beyond for these furry babies – sharing the good, the bad and the ugly of what it really means to foster – all with grace and positivity. Kate's amazing husband and kids are committed right alongside her to loving these babes, and getting them healthy for forever homes – embodying the meaning of being foster parents!" -Caitlin Gilbert, DPA!'s Feline Assistant Foster Director
Donate
Help us care for our adoptable pets by providing funds for their care. Below are suggested donation amounts corresponding to specific needs.
$10 – Microchip
$25 – Heartworm test
$50 – Puppy vaccinations
$75 – Spay/neuter one pet
$100 – One day of parvovirus treatment
$300 – Heartworm treatment
$500 – One month of behavioral training
Newsletter
Join our newsletter to receive updates in your inbox.
---
Dallas Pets Alive! is an exempt organization as described in Section 501(c)(3) of the Internal Revenue Code, EIN 46-2768869