News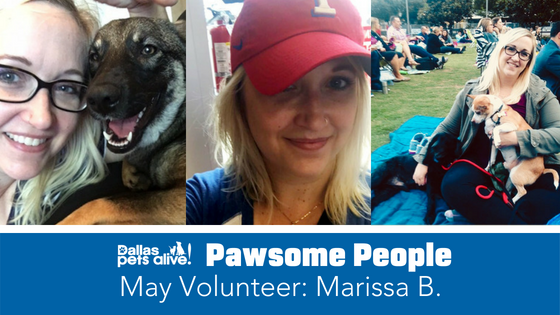 "Marissa volunteered to co-chair our Annual Pup Crawl this year (on top of her other DPA duties), an even that is complicated and an important part of our budget. She has done a wonderful job navigating the ups and downs of event planning and doing so with a positive attitude and professionalism. I have enjoyed working with her on one of my favorite DPA events and I look forward to see her in action this weekend at our biggest Pup Crawl yet!" — Leslie Sans, Executive Director for Dallas Pets Alive!
Donate
Help us care for our adoptable pets by providing funds for their care. Below are suggested donation amounts corresponding to specific needs.
$10 – Microchip
$25 – Heartworm test
$50 – Puppy vaccinations
$75 – Spay/neuter one pet
$100 – One day of parvovirus treatment
$300 – Heartworm treatment
$500 – One month of behavioral training
Newsletter
Join our newsletter to receive updates in your inbox.