News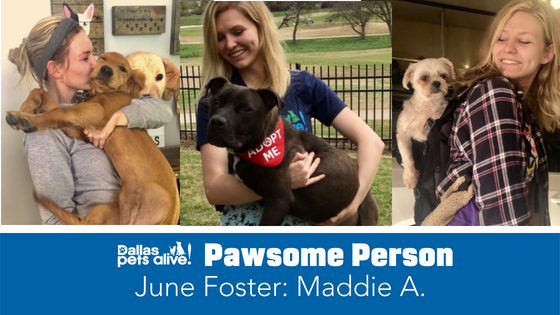 "Maddie is what every foster wishes they were…she is the owner of a fabulous boarding facility, Lucky Paws, in Allen. So basically she spends her day snuggling and playing with puppies. Cool, right?
Maddie was referred to us through one of our adoption counselors after adopting the cutest puppies ever from DPA! She dove right in and became a foster as well as one of our boarding partners. Maddie has continuously stepped up when fosters were in desperate need of immediate temp situations. These pups would have had no where to go if it wasn't for her willingness to take them in!
We recently received a rave review through Facebook about one of our representatives who helped wrangle in a loose foster pup at a gas station in Allen. It wasn't hard to put the pieces together to know that it was of course Maddie who came to the rescue! DPA is extremely lucky to have Maddie and Lucky Paws on our team!" – Stefanie Steiner, Foster Director for Dallas Pets Alive!
Donate
Help us care for our adoptable pets by providing funds for their care. Below are suggested donation amounts corresponding to specific needs.
$10 – Microchip
$25 – Heartworm test
$50 – Puppy vaccinations
$75 – Spay/neuter one pet
$100 – One day of parvovirus treatment
$300 – Heartworm treatment
$500 – One month of behavioral training
Newsletter
Join our newsletter to receive updates in your inbox.