News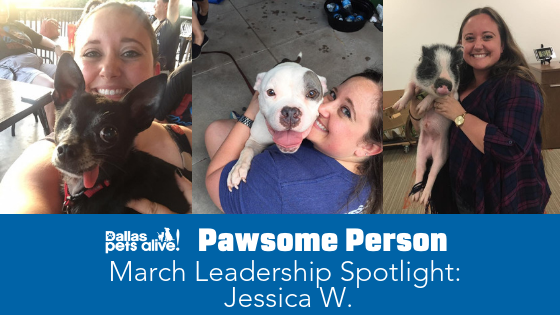 This month's Leadership Spotlight is the one and only Jessica Weinstein. Jessica is DPA's Vice President of Animal Operations AKA the "do-er" of all, the backbone of DPA!'s Animal Operations, and an inspiration to all of us who work with her. Jessica's spotlight this month is best highlighted from those who directly work with her. We can all learn something from Jessica–whether it is how to be the light in rescue work, how to go all in and not look back, and ultimately how to never give up.
Donate
Help us care for our adoptable pets by providing funds for their care. Below are suggested donation amounts corresponding to specific needs.
$10 – Microchip
$25 – Heartworm test
$50 – Puppy vaccinations
$75 – Spay/neuter one pet
$100 – One day of parvovirus treatment
$300 – Heartworm treatment
$500 – One month of behavioral training
Newsletter
Join our newsletter to receive updates in your inbox.