North Texas Giving Day 2018: A Cause Worth PAWSing For
Changing the game of rescue has been at the heart of our mission since 2012. Thanks to generous support from donors like you on North Texas Giving Day, Dallas Pets Alive! has saved thousands of animals in Dallas.
With your help, we can meet our goal of raising $35,000 to give second chances to more animals.

As an animal welfare organization, Dallas Pets Alive! has taken huge steps to reimagine the way Dallas does rescue. We are a primarily volunteer-run organization, dedicated to promoting and providing the resources, education and programs needed to eliminate the killing of companion animals in Dallas. We focus on rescuing healthy and treatable pets at the greatest risk of being euthanized at Dallas Animal Services (DAS). Our vision is to make Dallas a No-Kill city.
This year we're Pressing PAWS to celebrate the innovative ways we have saved thousands of lives and level up to save even more animals.
Here are a few of our high-score PAWS-worthy moments:
Establishing the first Positive Alternatives for Shelter Surrender (PASS) program in Dallas to help financially-challenged citizens keep their beloved pets in their homes—and out of the shelter.
Developing international and national transport partners to get our animals to cities desperately in need of adoptable animals.
Launching a new adoption center campaign that will transform the face of rescue from broken, sad, and depressing, to beautiful, happy and loving.
Creating unique, award-winning advertising campaigns that leverage social media channels and music streaming platforms to help our rescue pets reach a larger audience.
You Can Help DPA Level Up on North Texas Giving Day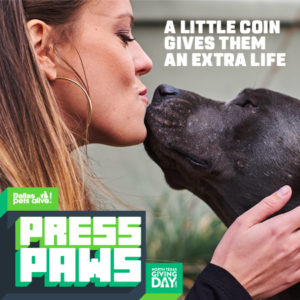 This year, our goal is to raise $35,000. That's a lot of coin for a really good cause, and we need your help!
$20,000 Donation Match
A group of amazing donors has pledged to match the first $20,000 in donations to Dallas Pets Alive! on North Texas Giving Day. For example, if you donate $100 our generous donors will match your donation 1:1, and your donation will actually be $200! Be sure to get up and #PressPAWS early on September 20 to make sure your donation is matched! Follow Dallas Pets Alive! on Facebook, Instagram and Twitter for all the details!

Meet Your 4-Legged Video Game Buddy!
From September 10-20, local gaming influencers will stream alongside a new partner: a Dallas Pets Alive! adoptable dog or cat. Whether you're in Dallas, Daytona Beach or anywhere in between, you can watch the streams, meet our adoptable pets (we hear some of them are real healers), donate directly to DPA, and learn all about how we're reinventing animal rescue.
Raise a Glass to a No-Kill City
All that gaming can make even the top players pretty thirsty. That's why our friends are throwing some amazing parties to keep donations pouring in. So, put your controller down and join us!
September 13, 5-9 p.m.: We're taking over Cidercade's Thirsty Thursday! Join us to play fun retro video games, drink yummy ciders and meet sweet pups available for adoption. Best of all, 10% of proceeds from the event will be donated to Dallas Pets Alive!
September 20, 5-9 p.m.: #PressPAWS for a North Texas Giving Day celebration at Community Beer Company from 5 to 9 p.m. Community will donate $1 for every beer sold during the party, and we'll have raffle prizes, a specialty beer, adoptable pups, food trucks and more!